Exclusive
'Wasted' And Falling Down! Rihanna Booed By Fans, Late For More Shows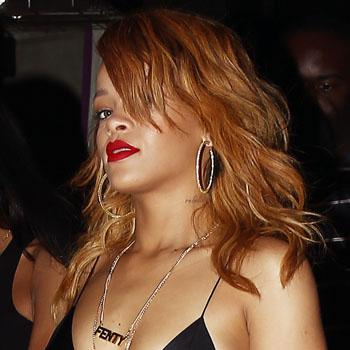 "Wasted" and "totally drunk," Rihanna shocked fans in Poland on Saturday night, July 6, at the Heineken Open'er Festival, just one day after being booed on-stage at her delayed concert in Denmark.
"This is what happens when you have a drinking problem," one YouTube commenter posted. "Can someone please get her help?"
And while Rihanna has certainly never apologized for her party-hard lifestyle, her late nights seem to be taking a toll on her Diamonds World Tour, as RadarOnline.com has reported.
Article continues below advertisement
Delays of more than two hours are increasingly the standard at any Rihanna show this summer. But after just 30 minutes of waiting at her scheduled show at the Roskilde Music Festival in Denmark on Friday, July 5, the crowd erupted.
Loudly booed when she finally arrived on-stage, Rihanna was totally nonplussed, telling the crowd, "I feel the love, Denmark. I don't just say these things."
The crowd, however, was not swayed by her platitudes. Concertgoer Per Borreby Jeppeson (@Pjeppe) tweeted that her show was the "worst ever." "Learn to use the clock," he suggested.
Twitter user Nick (@shigensis) wrote, "I came with an open heart and mind, but Rihanna is the biggest waste of money ever."
And as with her other shows this summer, accusations of lip-synching were rampant. "Did Rihanna use playback?" Twitter user Egil Sanfred asked. Martin Meon Wuffeld answered, "Is the Pope Catholic?"
By way of an apology of sorts, RiRi tweeted semi-nude shots on Instagram after the concert ended, and wrote an over-the-top tribute to the fans she kept waiting.
Article continues below advertisement
"#DENMARK you surprised me!" she wrote. "I had no idea you guys were that insane! You are incredible! I would come back here to perform ANYTIME!!! I loved it, you gave me the best experience on stage, thank you for that! I grew to really love you guys so much more after last night!! #ROSKILDE"
The next night, July 6, she was in the crowd at the Kings of Leon concert at the Heneken Open'er Festival in Gdynia, Poland, where one fan recorded this disturbing video.
youtube=https://www.youtube.com/watch?v=s7OxTssxCLE&w=560&h=315
To Rihanna, however, it was all in good fun. "Easily the best night of our lives!" she tweeted. "To the Kings, we love you for life! Thank you always!"
But for Rihanna, it was a "school night" of sorts, as she had a concert the next day. And again, she was late.
Members of the audience at her Gdynia show on July 7 started chanting "Beyonce," as she approached 50 minutes late.
"Dear Rihanna," @Panpremier tweeted. "Will you get on the stage at last? 50 minutes late is a complete lack of respect to the people who came to listen to you."
Wrote user @Marcin_PL, "Don't understand those people being disappointed with Rihanna being late on stage- she was late EVERY time, should have been prepared 4 it!"
Whether on time or not, she'll next take the stage in Vienna on Tuesday, July 9.