Exclusive
She's At It Again! Rihanna More Than Two Hours Late To Concert After Partying All Night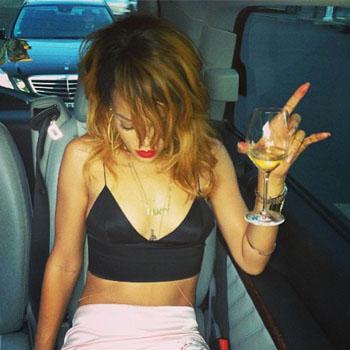 It was only a matter of time.
Rihanna has been on her best behavior in recent weeks, showing up on time for her Diamond World Tour concerts in Cologne, Germany, and Sunderland, UK, after RadarOnline.com's multiple reports about how her partying was affecting her tour. But that streak of punctuality ended in Zurich this weekend.
Rihanna was roughly 90 minutes late to her concert Saturday night, and after partying that night until well past 4 am, she showed up for Sunday night's concert about two hours late, much to her fans' dismay.
Article continues below advertisement
Though scheduled to start at 8 pm, the concert "Began at 9:22 pm," concertgoer Curdin Cavegn posted on Zurich's Radio 24 Facebook page. And while many fans insisted it was worth the wait, Sabrina Jungmann wrote, "Many are better. I'm of the opinion that she was not sober. She decided to party like a world star and then sang like a street busker. With full playback recording, she could have at least given some effort to the lip-synching. That was the first time I've ever left a concert before it ended. And for so much money. Unbelievable."
"Yeah that's true," Peter Hochreutener added. "It was really bad." Wrote Andi Preuss, "I was really disappointed."
Rihanna, however, thought the show was cause for celebration, continuing from Hallenstadion to the Kaufleuten nightclub, where she partied with her dancers in an upper-level VIP section until 3:30 am.
The hard-partying pop princess had more than 16 hours to pull herself together before her next concert, but apparently that did not suffice, as fans were left waiting until near 10 pm.
"Rihanna, wake up …" Paolo Broussard tweeted from the arena. "Where r u @rihanna?!" another fan, BelginA_ asked at 10:18 pm Swiss time. And as time passed, they got more insistent. "Where the hell is Rihanna?" @Lenzenhuber asked. "Ppl are waiting." User @leslie0386 tweeted, "@rihanna get your fu**ing ass into sicthe stage" around 10:25 pm Zurich time.
Rihanna, however, was nonplussed. She continued on to Paris for some more party time before her show in Berlin on Tuesday, tweeting a pic of herself and assistant Melissa Forde holding glasses of wine in a hallway, captioned "from Paris with love." She also posted another shot of herself, looking bedraggled, holding a glass of white wine inside a car, captioned "NiggazNParis."