Exclusive
Drunk Or Stoned, Fans Ask: Rihanna Shows Up More Than Two Hours Late for Concert After Partying All Night, Enrages Fans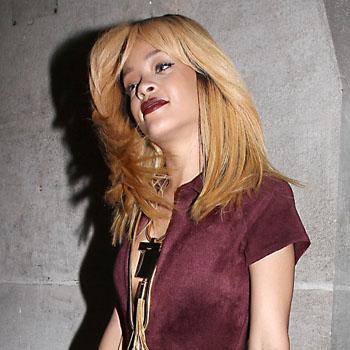 Diamonds are forever, but could Rihanna's partying turn fans against her during her Diamonds World Tour? Apparently, it already has.
The singer enraged fans in Antwerp this week with two disastrous performances after she finally showed up -- hours late, and with some fans accusing her of being "drunk," "stoned," and lip-synching after hitting the town until 4 am.
Riri was almost two hours late to her first show on Wednesday, after shopping away the afternoon at the Alaia showroom in Paris. And when she finally showed up, the audience was less than impressed.
Article continues below advertisement
Music critic Sasha Van Der Speeten of the Standaard newspaper titled her review, "Rihanna in a Bad Place."
"There was a wall of reinforced concrete between Rihanna and the public at Sportpaleis," she wrote. "The pop icon played almost two hours on autopilot. … It had the effect of a Valium overdose."
Accusing the singer of lip-synching, she wrote that she only occasionally sang over a backing track. "Just some words. Shameless, careless," she claimed. "How f*****g lazy and complacent can you get, girl?"
What's more, Van der Speeten says the lip-synching wasn't the necessary result of frenzied dancing. "Besides the bored swaying back and forth like a drugged rich baby during We Found Love, she didn't dance," Van der Spteeten writes.
Fans agreed, taking to Twitter to air their grievances.
The next night didn't go much better. After being spotted rolling up to her hotel, the Hilton Antwerp, at around 4 am she was more than two hours late for the show Thursday night.
"Rihanna and her crew apparently don't understand the concept of a live concert" @DeOneerbiedige wrote. "I think @rihanna 's concert was probably the worst I ever saw," said @GCandrix. User @JolienLindekens posted, "Rihanna was blitzed?!"
Rihanna's tour rolls on for now: She'll perform in Paris on Saturday night.