Hard-Partying Rihanna Disappoints Fans Again, Shows Up Two Hours Late To Wales Concert After Partying Until 4:30 AM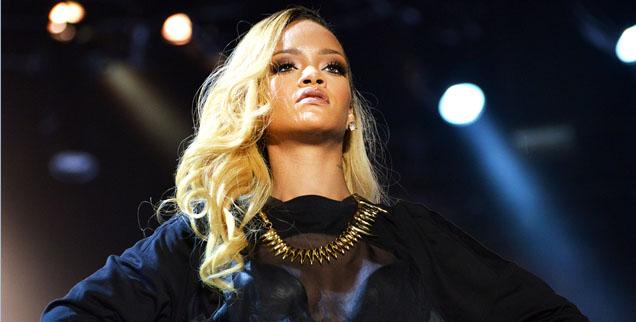 Is Rihanna touring European stadiums or nightclubs?
The Stay singer showed up more than two hours late to her concert in Wales on Monday night after partying until 4:30 a.m. the night before, RadarOnline.com is reporting.
As RadarOnline.com reported last week, Rihanna was seriously late to two concerts in Antwerp, Belgium, and for her next gig in Paris, she managed to show up on time — but then apparently decided such punctuality deserved celebration.
Article continues below advertisement
After wrapping up her Parisian gig, Rihanna high-tailed it to the exclusive VIP Room nightclub. She and her posse dined at the on-site Gioia Italian restaurant, sampling mozzarella, salad, spaghetti vongole and nutella tiramisu.
Rihanna then danced with friends until 4:30 a.m. in a private room of the club, emerging only to get a standing ovation from clubgoers partying below her private balcony.
Almost exactly 12 hours later, the doors opened to her concert at the Millennium Stadium in Cardiff, Wales. Rihanna was set to go on at 8 p.m., but by 10, she was still nowhere to be seen, and fans Tweeted their displeasure:
And for many fans, she was not worth the wait. After Riri finally arrived shortly after 10 p.m. Wales time, fans started to complain about her performing over a recording, with some claiming she was lip-synching.
"Pretty sure Rihanna is miming," user @izosullivan posted.
User @NickdeFig wrote, "Come on luv, you're not Brian May. Get with the singing."
"Worst concert I have ever been to. @rihanna miming every other word. S**t sound system #Pathetic we're leaving!" user @Darhys wrote.
Luckily, Rihanna will have a day off before she attempts to hit the stage on time on June 12 in Manchester.