Rihanna's A Hawaii 1-0! Sexy Singer Shows Off Everything In New Photos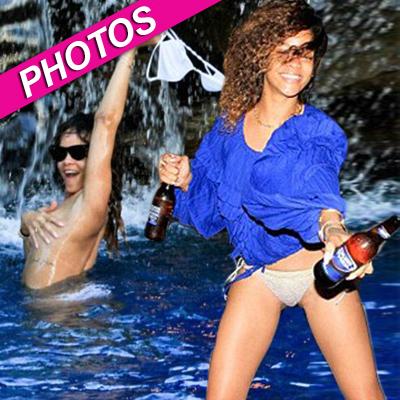 Rihanna was named the Sexiest Woman Alive in 2011, and by the looks of the pictures she posted Monday on her Facebook page, she's the front-runner for Esquire Magazine's award once again in 2012.
The Caribbean queen uploaded more than 100 photos of her beautiful bikini body taken during her Hawaii vacation earlier this year, and we've got ten of the sexiest for you on RadarOnline.com.
Article continues below advertisement
Rihanna can't help but get down and dirty in some of the pictures — guzzling beer, grinding with a girlfriend, and slathering suntan lotion all over her exposed body.
The 24-year-old S&M singer's love life has been the subject of endless speculation, as she's been linked to ex Chris Brown and Two and a Half Men star Ashton Kutcher.
When recently asked about her love life during a press conference the Barbados beauty responded, "I'm happy and I'm single, if that's what you're really asking."