Rihanna Slams Reports Of Hookup With Ashton Kutcher: 'I'm Single'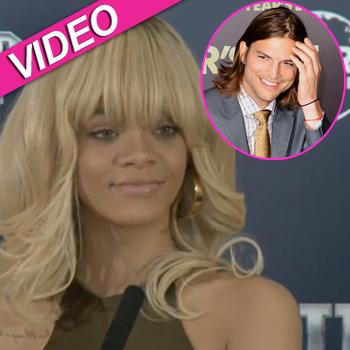 Article continues below advertisement
"You're so good at connecting with people that I think that we actually feel we know you. Things are clearly going brilliantly in your career. I just wondered if you are as happy in your private life, and will we see a certain Mr. Ashton Kutcher perhaps making a trip over here?" a British journalist named Sarah asked.
"Wow, how disappointing was that question?" Rihanna responds.
The mediator immediately tries to move the questioning on, but not before Rihanna adds, "I'm happy and I'm single, if that's what you're really asking."
While some reports maintained that the two superstars have been seeing each other since December, Rihanna made it clear that there is nothing serious going on between the two, if anything at all.
However, it cannot be denied that Rihanna, 24, showed up to Ashton's house shortly after midnight on March 22 and stayed until nearly 4 a.m. in the morning when she was eventually photographed leaving his Hollywood Hills bachelor pad.
Do you think Rihanna and Ashton would make a good couple? Leave your comments below...