Georgia Restaurant Apologizes For Offensive Chris Brown And Rihanna 'Black & Bleu Sandwich'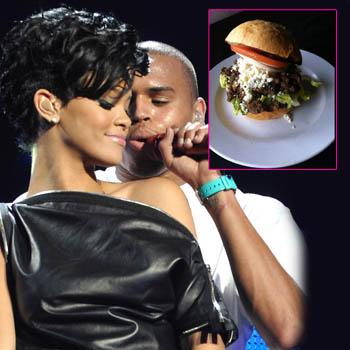 By Debbie Emery - RadarOnline.com Reporter
A Georgia steakhouse that caused outrage by promoting its black and bleu sandwich by comparing it to Rihanna's battered face after she was beaten by Chris Brown has been forced to take down the offensive menu item and eat a big slice of humble pie.
The Chops & Hops steakhouse in Watkinsville, Georgia posted a photo of the steak and blue cheese sandwich on its Twitter page with the comment: "@chrisbrown, @rihanna and us teamed up for a award winning celebrity sandwich. Chris Brown won't beat you up for eating this unless your name starts with a R and ends with A," reported AccessAtlanta.com.
Article continues below advertisement
The highly inappropriate comment referred to the 2009 assault on the Umbrella singer by her then boyfriend Brown, when he viciously punched her during a pre-Grammys argument.
The award-winning R&B artist was later sentenced to five years probation, one year domestic violence counseling, and 180 days of labor oriented service. The tumultuous pair recently reunited and joined creative forces on each other's new tracks, Birthday Cake and Turn Up the Music.
After diners at Chops & Hops voiced their disgust at the flippant comments, the management posted a public apology on their Facebook page, along with a pledge to give all the proceeds from the controversial sandwich to a domestic violence support group.
"The owners of C&H would like to make sure everyone knows that we and our staff DO NOT SUPPORT DOMESTIC VIOLENCE. Many of us have been affected by domestic violence in some manner and realize that this is no joke," wrote Mychell Lang.
Article continues below advertisement
"We have been involved in fundraising for Project Safe Team 6 and we fully intend on donating proceeds (times 6 - in honor of Team 6) from the sales of the burger. C&H continues to strive for a community driven, family oriented, great food and great service environment. We will continue to be involved in our community fundraising and charities near and dear to our hearts."
Featuring Caribbean spiced blackened ribeye steak, bleu cheese, sliced tomato, silver Lamborghini onions and shredded Romaine, the succulent combination sounds delicious but the steakhouse promises that it won't be served again.