Rihanna Defends Working With Chris Brown: 'There Shouldn't Be A Divide Between My Fans & His Fans'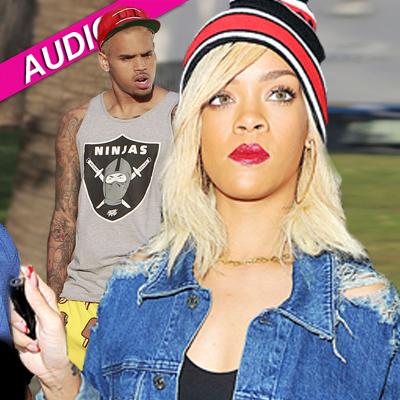 By Adam S. Levy - RadarOnline.com Staff Writer
Confused how Rihanna could ever work with (let alone speak to) Chris Brown again, after he assaulted her during their now-infamous February 2009 incident?
The Caribbean Queen shed some light on the situation in an interview with On Air with Ryan Seacrest Thursday, explaining the rationale behind their puzzling pair of performances on each other's new tracks, her Birthday Cake and Turn Up the Music, three years after he brutally pummeled her following a pre-Grammy party in Hancock Park, a suburb of Los Angeles.
Article continues below advertisement
"I already spoke to him about doing Birthday Cake because that's the only person I could see doing it," Rihanna, the best-selling digital artist of all-time, told Seacrest.
She added that "despite everything else," Brown's the top selling R&B star in the world and a no-brainer to collaborate with on a professional level. (On the controversial dance hit, he sings to Rihanna, "Girl I wanna f*** you right now. Been a long time, I've been missing your body.")
Brown, in turn, asked her to appear on the remix to his song, "Turn Up the Music" -- "One for my fans, one for his fans," she explained.
Subtly referring to the beating she endured at Brown's hands -- which he's still on probation for -- Rihanna said "there shouldn't be a divide between my fans and his fans.
"It's music and it's innocent."
As we previously reported, the day the song was released (on Rihanna's 24th birthday), Brown, 22, tweeted "HAPPY BIRTHDAY ROBYN!" to her; in turn, she re-tweeted Breezy's birthday wish, with the message, "Thanks," spurring chatter the couple might have quietly reunited.
Article continues below advertisement