Chris Brown & Rihanna ARE Communicating!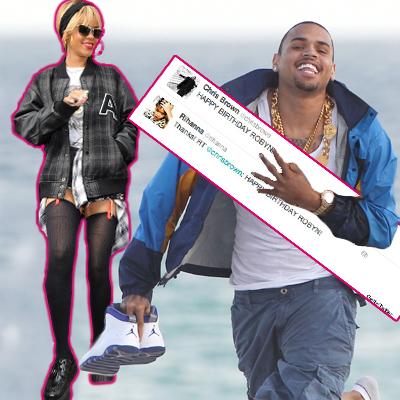 Chris Brown and Rihanna ARE communicating – at least through Twitter.
Brown tweeted "HAPPY BIRTHDAY ROBYN!" to the You Da One singer, who turns 24 Monday; in turn, Rihanna re-tweeted Breezy's birthday wish, with the message, "Thanks!" early Monday.
The pleasant public exchange is the first direct communication we've seen between the former couple three years after Brown, 22, pummeled the Barbadian beauty to a bruised and bloodied pulp following a pre-Grammy party in Los Angeles.
Article continues below advertisement
There's some chatter that RiRi might be working on a remix of her song Birthday Cake with Brown, who collected his first Grammy -- the Best R&B Album -- for his F.A.M.E. Record earlier this month. Another rumor making the round is that the pair had an ultra-secret reunion during an earlier party celebrating her 24th birthday.
EXCLUSIVE DOCUMENTS: Read Chris Brown's Probation Progress Report
Brown's new album Fortune hits stores March 16.