Exclusive
Chris Brown's Mom 'Livid' About Twitter Controversy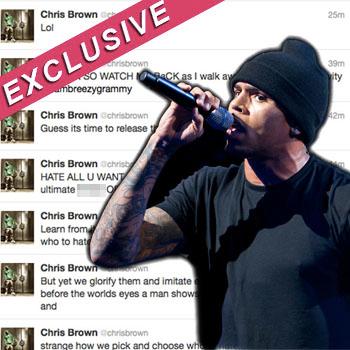 Article continues below advertisement
"HATE ALL U WANT BECUZ I GOT A GRAMMY Now! That's the ultimate F**K OFF!" The tweets from Brown's account said at the height of the rampage.
The Tweets have since been removed, and a source close to the singer tells RadarOnline.com: "Brown didn't Tweet that, someone does his postings to Twitter and when he saw that he ordered it taken down immediately."
Brown was bashed by many celebrities following his Grammys extravaganza -- Country singer Miranda Lambert tweeted during the ceremony: " I don't get it. He beat on a girl...," adding, "Not cool that we act like that didn't happen."
While Michelle Branch wrote: "Trying not to go off on a rant but...Chris Brown...*bites tongue* have we forgiven him?"
Meanwhile, "Joyce is absolutely livid that those vile words and rants were posted on Chris' Twitter page. She isn't buying his excuse that he didn't post it and she has told him that it is his Twitter page, and only he should be posting to it, period," a source close to the situation tells RadarOnline.com.
Article continues below advertisement
"She feels like people were just waiting for a negative reaction to what others were saying about him. She had begged Chris to just ignore it and she is just beside herself that after such successful performances at the Grammys and winning the award, people are now talking about this Twitter controversy."
The Chris Brown Twitter tirade also included: "Strange how we pick and choose who to hate! Let me ask u this. Our society is full of rappers (which I listen to) who have sold drugs (poisoning). But yet we glorify them and imitate everything they do. Then right before the worlds eyes a man shows how he can make a Big mistake and learn from it, but still has to deal with day to day hatred! You guys love to hate!!! But guess what???"
"It's time for Chris to grow up, and his mother told him that. Chris is his own worst enemy at times and she constantly worries about how he is going to react to stressful situations," the insider says.
Brown's Twitter page looks much different today, and now only has 11 posts in total, with most of the past year's activity deleted. Chris just posted the following message to his fans, "TeamBreezy, the Grammy I received was for those of you who supported my music and the hard work and growth in my life. I thank you! Love U!"