Chris Brown: 'DEAR MEDIA.. Ur Plan Is Not Working. I'm Not Going Anywhere So Get Used To Me'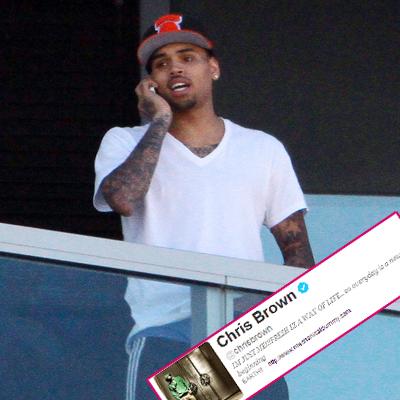 By Adam S. Levy - RadarOnline.com Staff Writer
Say this much for Chris Brown: he's never boring.
The mercurial 22-year-old singer -- fresh off his win for Best R&B Album for his F.A.M.E. record at Sunday's Grammy awards -- tweeted an umbrella statement to the media Wednesday after multiple critics and fellow celebs (Jack Osbourne and Miranda Lambert) raised their eyebrows at Brown's victory less than three years after he pummeled then-girlfriend Rihanna to a bruised and bloodied pulp following a pre-Grammy party in Los Angeles.
Article continues below advertisement
"DEAR MEDIA.. Ur plan is not working. I'm not going anywhere so get used to me," the With You singer wrote.
Of course, Breezy couldn't help himself, shortly deleting the tweet and replacing it with a simpler message: "Be HAPPY!"
EXCLUSIVE DOCUMENTS: Read Chris Brown's Probation Progress Report
The uber-talented singer-dancer has had a rocky relationship with the media since the February 2009 incident with pop's princess, reportedly breaking a window at ABC's New York high-rise office last spring after an awkward Good Morning America appearance in which he grew testy with interviewer Robin Roberts' references and questions to the Rihanna beating.
His Twitter page often reads like a volcano primed to erupt, as he'll occasionally blow his stack on the micro-blog about perceived biases against him following the violent incident.
As we previously reported, his mother Joyce was furious about her son's recent tirade bragging about his award show success, as a source told us "she feels like people were just waiting for a negative reaction to what others were saying about him.
Article continues below advertisement