PHOTOS & VIDEO: Chris Brown Breaks Window At GMA Studios, Leaves In A Shirtless Huff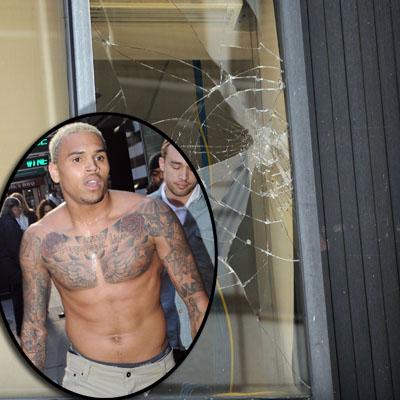 Chris Brown reportedly shattered a dressing room window and stormed out of the New York studios of Good Morning America Tuesday, RadarOnline.com has learned, after he was incensed when ABC's Robin Roberts questioned him about the brutal beating he laid on his then-girlfriend Rihanna more than two years ago.
The testy exchange went as such:
Roberts tried to delicately segue into the topic, asking Brown, "What's going on now is that recently, the restraining order against you that Rihanna had issued has been relaxed ... have you all ... seen each other, been around each other at events?"
Article continues below advertisement
An uncomfortable Brown replied, "I mean not really, it's not really a big deal, that situation, I think I'm past that in my life, and I think today's the album day so that's what I'm focused on, so everyone go and get that album."
Brown, 21, said his new album's title, F.A.M.E., stands for "forgiving all my enemies and fans of my everything," in particular those who stood by him in "everything that I went through."
Brown said that his enemies are "just anybody naysayers, haters, whatever the case may be."
Roberts said, "But you can understand how some people, that was very serious what you went through, and what happened ... even the judge though, afterwards, said you had served your time and community service and all that."
Brown testily replied, "I've been focused on this album ... definitely this album is what I want them to talk about, and not the kind of stuff that happened two years ago."
Article continues below advertisement
Roberts nervously laughed, "Well thank you for letting me go this way, because there had been a lot of people tweeting about it."
Brown said he's doing the new album for his fans and "could care less what everybody else thinks."
According to WABC-TV, after the interview, Brown performed as scheduled, but once he got back stage, he stormed into his dressing room and started screaming and tearing the room apart, according to insiders.
Workers in the building called security. Before they arrived, insiders told WABC-TV that a window in his dressing room was smashed, with the glass shattering and falling onto 43rd and Broadway.
Chris Brown was scheduled to do another performance on the GMA website, but he ripped off his shirt and left the building instead.
After the broadcast was over, GMA posted a story on the incident on its website, saying: "Brown stormed off stage and went back to his dressing room. Then he came back down the hall, still backstage, and stopped upon seeing the person who produced the segment. Brown didn't have his shirt on.
Article continues below advertisement
"The show's hair and makeup staff said they had called security because they heard loud noises coming from Brown's dressing room.
"It was then discovered that a window had been smashed in Brown's dressing room. The thick glass was destroyed and strewn across the street below."
ABC News later released a statement following the incident: "As always, we ask questions that are relevant and newsworthy, and that's what we did in this interview with Mr. Brown."
Immediately after his performance Brown took to his Twitter page to vent further.
"I'm so over people bringing this past s--- up!!! Yet we praise Charlie Sheen and other celebs for there b-------!" Brown tweeted right after the incident, but removed it just moments later.
"All my fans!!! This album is for you and only you!!! I'm so tired of everyone else!! Honestly!! I love team breezy!! Thank you to everyone who supports my music!!! Key Word ( music) !!! Love y'all," he tweeted.
Article continues below advertisement
He then retweeted a few positive messages from fans, including: "the media is just trying to bring you down... DONT LET THEM!!!!!" and "Chris today is OUR moment urs and ours #teambreezy! its all about ur music ur hard work!!! we're sooo proud of u and love u!"
After the show, Roberts, a newcomer to Twitter, posted this message on her account: "Sure has been an interesting AM @GMA. Still sorting thru everything myself. Just my 2nd day on twitter, wonder what tomorrow will bring?"
The Brown incident was discussed in-depth on ABC's The View on Tuesday.
The View's Elisabeth Hasselbeck -- who also serves as an occasional correspondent on GMA -- said that according to a GMA official, Brown knew the Rihanna-related questions would be asked. Sherri Shepherd added that Brown had previously declined to appear on The View under similar circumstances.
Whoopi Goldberg, quoting the GMA official, confirmed that "a window was broken, but ... the network could not confirm who broke it," adding that there were several bystanders, some with Brown's group, in the vicinity of the shattered window.
Article continues below advertisement
Goldberg added that Brown did not "get physical with anyone" while in the studio.
Earlier this month, the mercurial singer told Page Six Magazine he was done apologizing for the attack.
VIDEO: Chris Brown Makes SNL Comeback On Anniversary Of Rihanna Beating
"People are always gonna talk," the Forever singer, 21, told the magazine regarding the infamous incident. "But I'm in a positive place. I consider myself a grown-ass man. And at the end of the day, if I walk around apologizing to everybody, I'm gonna look like a damn fool."
Brown was sentenced to five years probation and ordered to do 180 days of community labor as a part of the plea deal he made in June 2009 for the assault, which took place in in Hancock Park, California. The restraining order issued to Brown orders him to keep his distance from the S&M singer for five years.