Celebrity Twitter Pics Of The Week! The Good, The Bad & The Outrageous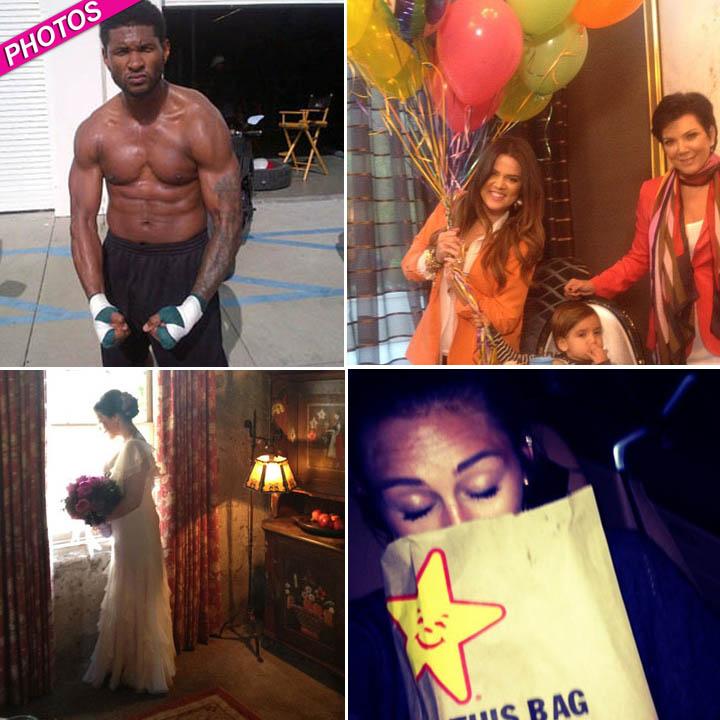 RadarOnline.com Features Editor
Hollywood stars are their own, personal paparazzi!
Stars like Miley Cyrus, Snooki, Usher and Chelsea Handler clearly weren't camera shy this week, sharing their good, bad and outrageous personal photos with their fans on Twitter. RadarOnline.com has all the best and worst of the social media scene in our weekly Twitter pic feature.
What better way to show the world that you aren't dead, than by tweeting a photo of your abs? Usher Raymond cleared up those pesky internet death hoax rumors by showing off his marvelously fit midsection. "I must've died and went to heaven…Alive and cold kickin a**!! URIV," he tweeted.
Article continues below advertisement
Not everyone was mourning Lamar Odom's departure from the Dallas Mavericks! Kim Kardashian was psyched to have her little sister Khloe back in Los Angeles, where the family celebrated her return with a homecoming dinner. "Welcome home KoKo!" Kim tweeted, along with a photo of Khloe, Mason and Kris Jenner.
Miley Cyrus spawned eating disorder concerns when she tweeted a photo of herself sniffing a Carl's Jr. bag with the caption: "I can't eat it. So I'm just gonna smell the shi******** out of it! My mouth is LITERALLY watering." The controversial star later slammed the speculation, maintaining that she is simply on a gluten-free diet.
And congratulations, Ricki Lake! The blushing bride shared an image of her special day on Twitter. "Yup. This is me.... Sadie Sadie married lady. :) :) Love is in the air. Xo."
For all the rest of this week's celebrity Twitter pics, click here.