Usher Is NOT Dead, He's At The Happiest Place On Earth!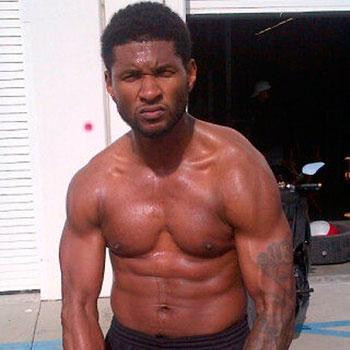 By Amber Goodhand - RadarOnline.com News Editor
You know your celebrity status has reached a new plateau when a death hoax in your honor emerges.
Hip hop superstar Usher reportedly died in a car crash, but RadarOnline.com has learned the 33-year-old is alive and well, and even spent the weekend with his children at the happiest place on Earth — Disneyland!
A website known for faking celebrity deaths posted on Tuesday, "Usher died in a single vehicle crash on Route 80 between Morristown and Roswell. He was pronounced dead at the scene by paramedics responding to the vehicle accident and was identified by photo ID found on his body.
Article continues below advertisement
"Alcohol and drugs do not appear to have been a factor in this accident on April 10, 2012. Highway Safety Investigators have told reporters that Usher lost control while driving a friend's vehicle on Interstate 80 and rolled the vehicle several times killing him instantly."
Again, this website is a fake and has been known for spreading the faux deaths of Jon Bon Jovi, Reba McEntire and numerous others.
Usher's fake death took Twitter by storm with fans writing condolences and many questioning the credibility of the report.
But it was Usher himself who debunked the death by tweeting a buff photo of himself with the caption, "Never scared, never dead...Just #Lookin 4 myself. URIV"
RELATED STORIES:
Justin Bieber Unveils Newest Canadian Sensation, Carly Rae Jespen
Usher Premieres Holiday Duet With Justin Bieber