Usher & Chelsea: Get A Room!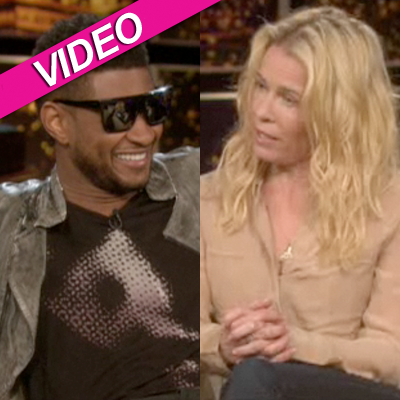 Summer might be slipping away, but the heat was searing on Monday's Chelsea Lately when hip hop artist/music mogul Usher and host Chelsea Handler flirted at a level that was best fit for cable TV.
It all started when Handler, 36, asked the My Boo singer, 32, if the rumor is true that he travels with a hot tub to relax in at the end of a long day.
Usher confirmed the rumor, explaining the hot tub makes for "a little after-party motivation.
Article continues below advertisement
Bill & Giuliana Rancic Open Up About Adoption Plans On Chelsea Lately
"I normally do it alone, but if you decide you wanna come back stage we can play in there!"
"You know what?" Handler said, before bringing up the mogul's prized protégé. "Justin Bieber tries to pull this s**t when he comes on here -- now I know where he learns it from!"
Handler added she's "too big for" Bieber, to which Usher remarked, "But you're not too big for me."