Bill & Giuliana Rancic Open Up About Adoption Plans On Chelsea Lately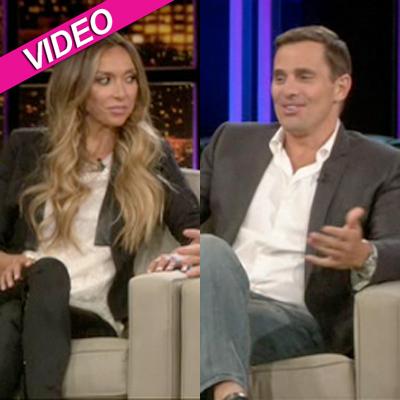 By Adam S. Levy - RadarOnline.com Staff Writer
One of Hollywood's sweetest and sexiest couples, Bill and Giuliana Rancic, told Chelsea Handler Wednesday night that their plans to adopt a child will, literally, hit close to home.
"That story's out there," gorgeous E! host Giuliana told Handler. "We've tried everything, we've tried IVF, we've tried it all, so we're open to everything."
Giuliana said they couple might adopt an "underprivileged kid" from her hometown of Naples, Italy.
Article continues below advertisement
"I feel, like, a real connection to where I'm from," Giuliana, 35, said.
In another highpoint in the segment, Giuliana dished that her former Apprentice winner hubby likes to take control in the bedroom, telling her "Honey, I've got a lot more practice than you," during sex.
Comments like those, Giuliana said, made her speculate that Bill, 40, had bedded at least 100 women before they got together. Bill -- who denied it – cooly shifted the discussion to Handler's sexual habits, asking the host if she's had as many as 100 lovers.
Watch the video on RadarOnline.com
"I don't think it's been 100," Handler said. "I don't have that kind of time on my hands!"
Handler then advised Giuliana, "I do think you should be open to more positions, which is what I think he's getting at!"
The couple's reality series, Giuliana & Bill, airs on The Style Network Mondays at 8/7c.
RELATED STORIES:
Giuliana Rancic Digs Into Three Bowls Of Pasta - I DO Eat Carbs!