Exclusive
Giuliana Rancic Digs Into Three Bowls Of Pasta - I DO Eat Carbs!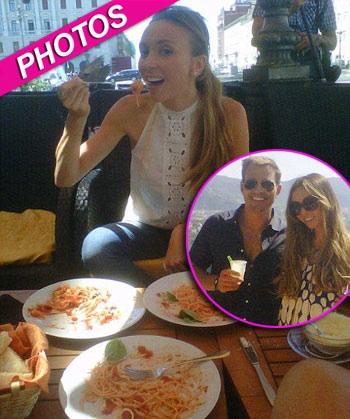 By Debbie Emery - RadarOnline.com Reporter
Twitter has turned into a modern platform for stars to fight back against accusations of extreme dieting.
Just like stick-thin LeAnn Rimes before her, super-slim E! host Giuliana Rancic is fighting back against critics who say she's overly-thin in photos of her gorging on pasta in Italy, tweeted by her husband.
Former Apprentice winner Bill Rancic posted the picture of his wife surrounded by huge plates of pasta with the caption, "Lunch in Trieste... 2people... 3 bowls of pasta!!"
Article continues below advertisement
The couple is enjoying a food-filled trip to Giuliana's home town of Naples where they're feasting on all best - and most fattening - food the country has to offer.
Along with the pasta carb-fest, Giuliana and Bill - who have their own self-named reality show on the Style Network - have enjoyed huge family dinners, pizza, ice cream and hand-made limoncello on the home-coming trip.
The 35-year-old television host has been open about her struggle to get pregnant amidst speculation that she's too thin to conceive.
"As a woman you blame your body, you blame yourself, and I was riding that wave for a while and I was playing the blame game," Rancic, who had a miscarriage last year, told RadarOnline.com in an exclusive interview in January.
"Look at Kelly Ripa! She's half my size and has no body fat and has kids. Giselle is a supermodel, and I've pinched her in real life just to see if she has body fat -- zero body fat! Look at Victoria Beckham, she's on her fourth child.
Article continues below advertisement
"It's unbelievable to me the amount of ignorant comments that come in and it's just uninformed ignorant people. To all the haters, get informed! Go Google it...it has nothing to do with anything," said Rancic adamantly.
Guiliana And Bill Tour Italy - See The Photos
"There are thin girls with infertility issues, normal sized girls with infertility issues and overweight girls with infertility issues. Unless your doctor tells you your weight is affecting you in some way...once the doctor rules it out, that's really not it," she claimed.
The couple, who married in 2007, has since taken a break from their baby battle and IVF programs to concentrate on their relationship and took a much-needed holiday to celebrate.
Giuliana & Bill Rancic Celebrate His Birthday In Vegas - See The Photos
Luckily Giuliana's left her diet in the States as well as the stress as her and Bill visit her relatives all over Italy including Sorrento, Capri, Campania and Naples, where she was born but left at the age of five to move to Washington D.C.