Anne Hathaway: 'I'm Living On Kale & Dust …The Catsuit's Unforgiving'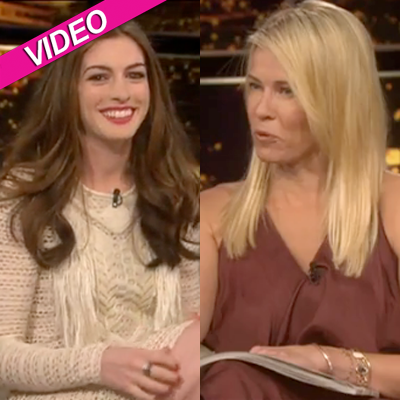 By Adam S. Levy - RadarOnline.com Staff Writer
It's takes a killer bod to slink across the silver screen in the Catwoman suit, and Anne Hathaway's been in a feline frenzy of workout and diet to look the part for one of her biggest roles to-date.
The 28-year-old beauty, who's slated to play Catwoman in The Dark Knight Rises, appeared on Wednesday's Chelsea Lately, where she dished about the sacrifices she's making in preparation of the highly-anticipated sequel.
Article continues below advertisement
"Look at that body, that body's banging girl," Handler said as the A-list actress marched out onto the stage. "Someone's been training for Batman!"
First Look At Anne Hathaway As Catwoman
Hathaway said that after much resistance, she's really taken to working out after finally getting over the hump of pain and soreness one experiences in initially conditioning their body.
Hathaway said at one point she was so weak, she was "working out next to a pregnant Jessica Alba, and she could do more push-ups than I could!"
MORE ON:
hollywood happenings
Hathaway said she's embraced Bikram yoga, which is practiced in intense heat, to build up her strength for the role.
As far as her diet, Hathaway said she's been "living on kale and dust" to slim down, as the "Catsuit's unforgiving," adding it takes three people to help her slink into the tight suit.
Watch the video on RadarOnline.com
Fun fact: other actresses to play Catwoman include Julie Newmar, Eartha Kitt, Michelle Pfeiffer and Halle Berry.