Music Festival Fashion! The Best, Worst & Wackiest Dressed Stars At Coachella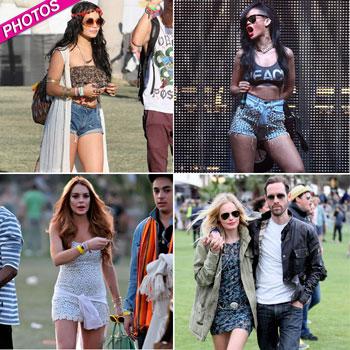 Article continues below advertisement
Though several fierce fashionistas competed for the Best Dressed honors throughout the three-day weekend, Kate Bosworth scored the top honors. The star, who even filmed a Coachella inspired video for her company JewelMint, donned several perfectly put together looks, rain or shine. On day one, she rocked an uber short and tight floral print mini with an oversized army jacket and green Hunter boots, following it up on Saturday with tiny cutoff shorts and a black t-shirt, jazzed up with a western style silver belt, Isabel Marant Dicker boots and an Isabel Marant cowgirl shirt. She also hit the Mulberry Pool Party, where she rocked an animal print top with Current/Elliot jean shorts, a Mulberry bag and black kicks.
While big-lipped Lindsay Lohan managed to show off her skinny figure at the festival in a cream eyelet jumper with matchy-matchy platform heels, the troubled starlet looked a bit ridiculous for a day spent trotting on the dirt of a polo field.
It should come as no surprise that Vanessa Hudgens used the weekend as an opportunity to take her already boho-bad fashion sense to new extremes and throw up an infinite number of "peace" signs. Though she actually got our thumbs up for her ensemble at THE GUESS HOTEL Smoke & Mirrors party, wearing a rose lace-trimmed dress with brown boots, her other looks bordered on catastrophic, blending a 1970s flower child with Taylor Momsen's stripper style.
Article continues below advertisement