Lady Gaga Does A Bieber – Throws Up On Stage & Keeps Singing!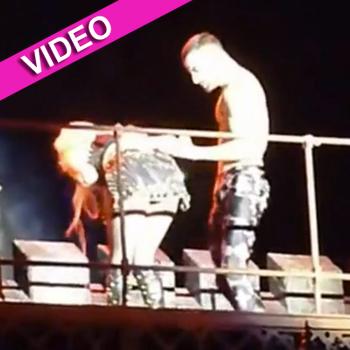 The show must go on – and it did.
On the heels of Justin Bieber throwing up during a recent concert in Arizona, Lady Gaga did the same this weekend, vomiting several times during a performance in Spain.
In a video that's racking up views by the second, Gaga turns her back to the crowd, then loses her lunch at least four times while singing Edge of Glory in Barcelona on Saturday. A dancer moved in front of her to block the audience's view, but it was all caught on tape.
Article continues below advertisement
Watch the video on RadarOnline.com
The Poker Face singer, 26, showed she can laugh at herself, taking to Twitter Monday morning to post a link to the video and writing, "Was praying nobody saw but actually its quite a good laugh if u need one! Check out Lady PukeGA doing Swan 'Vomit' Lake."
She also -- rightfully so -- patted herself on the back for not missing a beat: "I still hit my routine mom!! :)," she tweeted.
"Thank goodness for the Dorchester...i need some tea ,i think i just cried a little watching that."
It's been a rough weekend for the star. On Sunday night, just a day tossing her cookies on stage, the singer was booed by fans in London during the launch of her new perfume, Lady Gaga Fame, after she arrived an hour late to Harrod's and then opted to not pose for photographers and fans on the red carpet.