Thin Again? Lady Gaga Shows Some Skin In Bra And Shorts In France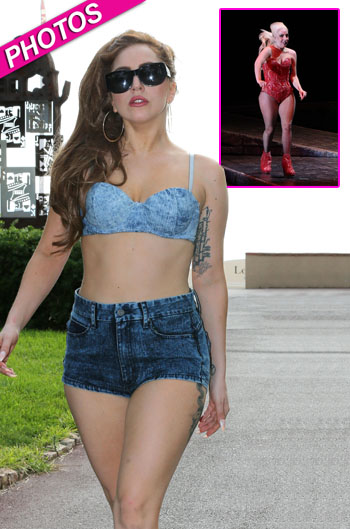 What weight gain? Her critics have taken some lumps out of her, bashing her 25-pound weight gain but Lady Gaga stripped down to just a pair of short shorts and a bra to celebrate her curvier frame.
Weeks after photos surfaced of the singer looking heavyset during a performance, the star has been strutting her stuff in France wearing nothing but a bra top and a denim pair of Daisy Duke shorts and RadarOnline.com has the photos of the singer looking a lot trimmer.
Article continues below advertisement
It may have been an overcast October day in the coastal town of Juan les Pins but that didn't stop Gaga from flashing her toned legs and flat tummy on Friday.
The Born This Way singer confidently strode past photographers as she and her entourage stopped off to have lunch at a local restaurant.
The 26-year-old New Yorker has been wearing more and more revealing outfits ever since the hubbub about her weight gain began.
Last month she even posted photos of herself in her underwear on to her Twitter page, revealing that she has struggled with her body image in the past.
"I'm happy. Happier than I've ever been ," she wrote on her blog.
She also told a radio host that she put on weight by indulging in the food served at her father's new restaurant.
"I love eating pasta and pizza," she said, adding, "It's so freaking delicious, but I'm telling you I gain five pounds every time I go in there."