Lady Gaga Is Proud Of Her New Curves, Struts Her Stuff In Skimpy Costumes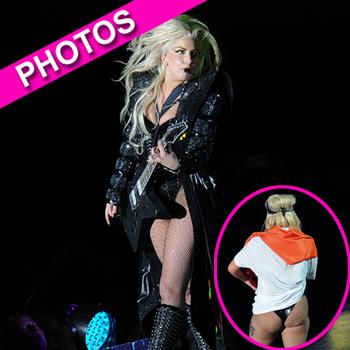 Lady Gaga flaunted her body with the usual array of outrageous and skimpy get-ups at a show in Zurich, Switzerland, on Wednesday, and RadarOnline.com has the photos.
The 26-year-old pop star proudly strutted her stuff in a leather g-string and fishnet tights and showed off a much fuller booty.
The Born This Way star recently gained 25 lbs and loves every inch of her new curves but some haters have given her a hard time for her more womanly form.
Article continues below advertisement
Gaga has previously battled anorexia and bulimia and is normally super skinny but has added some extra padding recently after tucking into her favorite foods of pasta and pizza.
But despite critics mocking her weight gain, she has also taken to her blog to slam anyone who taunts her new figure. Gaga wrote: "When I eat and am healthy and not so worried about my looks.
"I'm happy. Happier then I've ever been. I am not going to go on a psycho-spree because of scrutiny.
"This is who I am. And I am proud at any size.
"My boyfriend prefers me curvier."
She also confessed that struggling with her weight has plagued her all her life and thanked her fans for supporting her and giving her confidence.
Gaga also wrote: "My weight/loss/gain since I was a child has tormented me. No amount of help has ever healed my pain about it. But you have."
Gaga has launched a sub-section of her website called "Body Revolution" and posted a series of pictures of herself just wearing underwear, to inspire bravery and compassion, she claims.
Article continues below advertisement
The native New Yorker's curves are thanks to her dad's new restaurant apparently. She said: "I love eating pasta and I'm a New York Italian girl.
"That's why I have been staying out of New York. My father opened a restaurant. It's so amazing ... it's so freaking delicious, but I'm telling you I gain five pounds every time I go there.
"So my dad wants me to eat at the restaurant, and I'm like, 'I've got to go where I can drink green juice.'"