Kirstie Alley Weighs In On Lady Gaga's New Curvy Figure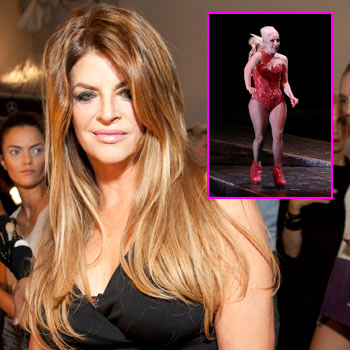 If there's one celebrity who can understand being under the spotlight for their fluctuating size it's Kirstie Alley and she has weighed in on Lady Gaga's recent weight gain.
Kirstie spoke to okmagazine.com after the Dancing With The Stars: All Stars results show on Tuesday and says she is fully behind the singer's new Body Revolution campaign.
"I say more power to her. She is such a role model for millions of girls in the world and she should be whatever weight she wants to be and nobody should have to starve themselves," Kirstie said.
Article continues below advertisement
"I mean there are women - I don't know many of them - but there are women that are naturally thin - it's rare.
"And sometimes when you first come out in the industry and you have an image and you're all skinny and you have all this fashion and you become an icon because you're a stick and then - she gained what 30lbs? Who cares!
"I think it's good that she's saying this and starting the body revolution. I know dancers and ballerinas... I was talking to Shawn Johnson about gymnasts who are expected to be shredded and skinny and there's no way to do it naturally."