First Celeb Bounced Off Dancing With The Stars: All-Stars Is...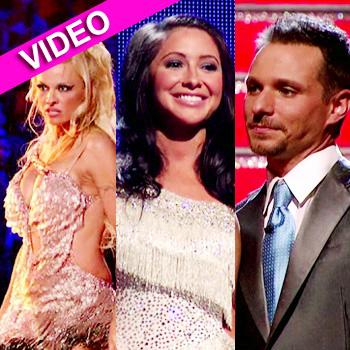 Pamela Anderson has the dubious distinction of being the first celebrity voted off Dancing with the Stars: All-Stars season.
The 90s sex symbol was the first out the door after lackluster 17-point debut Monday.
"I was ready for it, for sure; we got the lowest score," the Barb Wire beauty said following her ouster. "But we'll keep dancing, we'll dance together again for sure."
Later appearing via satellite on Jimmy Kimmel, Pamela admitted she was very busy traveling last month, and did not get proper time to rehearse with partner Tristan MacManus.
Article continues below advertisement
"Well the good thing is, at least you can go from wearing your skimpy dance outfits to wearing your skimpy regular clothes," Kimmel joked.
The show also featured performances from Justin Bieber and Pitbull.
As we previously reported, Dancing with the Stars: All-Stars, the show's 15th season overall, is the first to bring back former competitors. All will be judged to much higher standards, having been on the show before.