From The Tube To The Plastic Surgeon's Office! TV Stars Who've Gone Under The Knife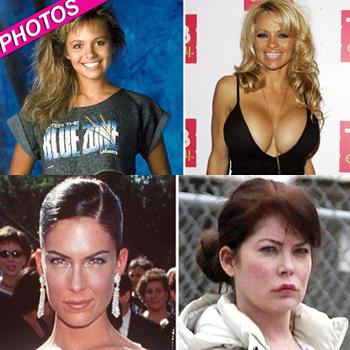 It's hard to keep a plastic surgery transformation a secret when your face is splashed on television every week for several years!
From soap operas to sitcoms, these Hollywood television stars were welcomed into the homes of people around the world, with their memorable roles on the tube -- so when their faces and bodies drastically transformed, it was impossible to avoid plastic surgery speculation. RadarOnline.com has photos of 10 television stars who are rumored to have gone under the knife.
Article continues below advertisement
Pamela Anderson spent a significant amount of time stripped down in skimpy red swimsuits on her hit show Baywatch (as well as totally nude in Playboy!), making it impossible for her to deny getting several boob jobs. Now, at 45 years old, it appears that the boobiful beauty has undergone several other procedures.
Twin Peaks and The Practice star Lara Flynn Boyle was one of the most beautiful stars on the tube, before transforming her face with plastic surgery. The 42-year-old is almost unrecognizable, due to several rumored procedures.
MORE ON:
Nicollette Sheridan
Glee girl Heather Morris didn't exactly enjoy her brief run as a busty blonde! The young star admits to getting a boob job and having them promptly taken out.
Jennifer Aniston, who has copped to a little Botox, has always been coy when people get nosey about her schnoz. The former Friends star is rumored to have gotten more than one nose job over the years.
What other television stars are rumored to have gone under the knife? See all the before and after photos by clicking here.