Plastic Surgery Disasters? Stars Who Have Dramatically Transformed Their Faces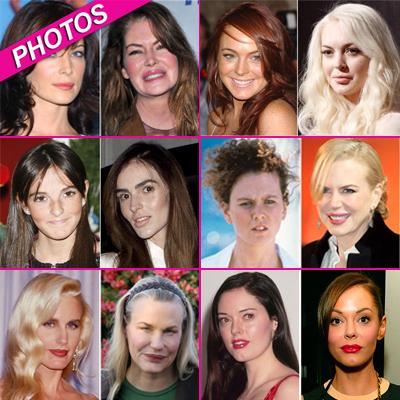 It's normal for faces to change as the years go by, but when a celebrity undergoes an overnight transformation, it's hard not to take notice!
From young reality stars to aging actresses, Hollywood's hottest stars have dramatically transformed before our eyes, spawning plastic surgery speculation. Whether they have copped to going under the knife or defended their natural aging process, RadarOnline.com has photos of the top 10 stars who have dramatically transformed their faces.
Article continues below advertisement
Ali and Lindsay Lohan have more in common than their last name! Both the scandalous starlet and her little, aspiring model sister have been accused of changing their profiles with plastic surgery.
Kim Basinger was one of the sexiest big screen bombshells of the 1980s and 1990s, but recently the star has created quite a stir with her plastic looking face.
Heidi Montag is one of the biggest plastic surgery disasters of all times, publically transforming her young and youthful looking face into a surgery spectacle.
And Twin Peaks star Lara Flynn Boyle was one of the most beautiful stars of her time, but a decade and several reported surgeries later, she looks nothing like she did in her heyday.
What other stars have dramatically transformed their faces? Find out by clicking here.