Exclusive
Plastic Surgery Secrets Of The Not-So Real Housewives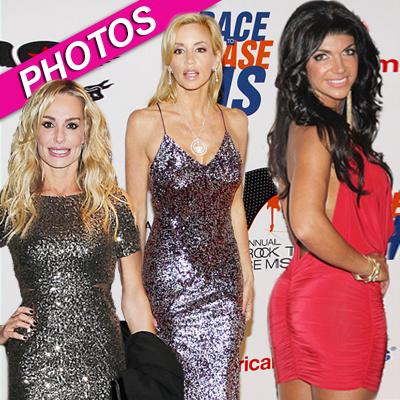 The streets of Beverly Hills have as many plastic surgery offices as they do designer boutiques, so it's no surprise that the Real Housewives have had their fair share of work done, and RadarOnline.com has exclusive details on their dramatic transformations.
Troubled Taylor Armstrong has a skinny face, but appears to have been plumped to high heaven with injectable fillers. "Not only is she missing the cupid's bow of her upper lip, but her upper lip is slightly larger than her lower lip: a classic trout pout," celebrity plastic surgeon Dr. Anthony Youn, who has not treated any of the reality stars, told RadarOnline.com in an exclusive interview "I also suspect that she's had Botox injections into her now smooth forehead."
Article continues below advertisement
Newcomer Brandi Glanville is no stranger to the surgery trend and has gone so far that she looks like she has been stung by a whole swarm of bees! "She's either undergone too many injectable filler treatments or she's undergoing an allergic reaction, causing her face to look puffy," said Dr. Youn. "Her cheeks and lips look like she's spent thousands of dollars on plumping injections."
Adrienne Maloof may have had something more intrusive than a syringe in her face, with Dr. Youn suspecting she has had a full nose job. "Her lips are full, and her nose appears to have undergone a rhinoplasty," he told RadarOnline.com. "Her wrinkles are smoothed out, likely from a filler like Restylane. I also suspect that she's had a good dose of Botox in her forehead."
It's not just the Beverly Hills Housewives that have a habit of appearing to have gone under the knife, Kim Zolciak from the Atlanta franchise is boasting a very fake looking pair of breasts. Along with the new mom's implants, "I suspect that she's had a nose job, but otherwise her face looks pretty darn real," said Dr. Youn.
Thankfully some of the series' stars have taken a far less aggressive approach to fighting back the years. "Jill Zarin looks pretty au naturel. I suspect that she's probably undergone facials and chemical peels to make her skin as pristine as it is but I doubt she's gone under the knife or needle, though. If she has had work done, then her surgeon should pat himself or herself on the back."