More Stars Who Are Proud To Be Plastic & More Who Regret Going Under The Knife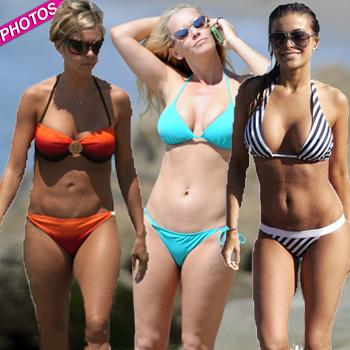 Not every Hollywood star is bashful when it comes to talking about their plastic surgery, but that doesn't mean that they are necessarily proud of going under the knife.
Whether they got botched tummy tucks, lip augmentations or fantastic face lifts, these sexy celebrities have opened up about their good and bad experiences in the plastic surgeons office. RadarOnline.com has photos and details about 5 more stars who are proud of their plastic surgery, and 5 more who lived to regret going under the knife.
Article continues below advertisement
After popping out eight kids, Kate Gosselin wasn't bashful about getting a tummy tuck in 2006; she even did it on her hit reality television show. Years later she was still in support of the surgery, tweeting to a fan in 2011: "Get through the first two weeks of pain and yuck. And it'll be the BEST decision you've ever made! How's that?;)."
But Tara Reid's plastic surgery experience was a total catastrophe. After getting a botched lipo job and embarrassingly showing off the work on the shoreline, the American Pie actress expressed her regrets and had her work corrected.
Wendy Williams is proud of her plastic! The talk show host told XO Jane about her surgery haters, "They are jealous. Because if I said to that person, 'I got the doctor and I'm going to pay for it. Choose three things you want to do,' believe me, they would get it done. They are very jealous and scared. Scared of what their other friends would say, or to break out of the box and be different."
Apparently Jessica Simpson wasn't content with the size of her 'Sweet Kisses'! The singer and reality star went over the top with lip injections, showing off a massive trout pout. She later copped to getting Restylane injected into her smacker, telling Glamour magazine that she "didn't like" the "fake" look.
Which other stars are proud to be plastic and who has regrets? Find out by clicking here.