Kate Gosselin Tweets Jon's Former Girlfriend Hailey Glassman!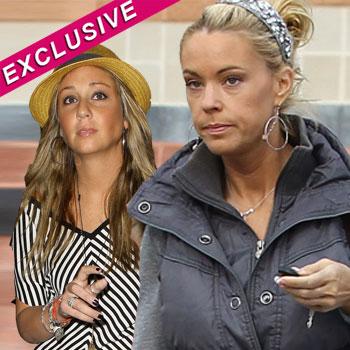 In twist worthy of a reality TV show, Kate Gosselin has been tweeting with her ex-husband's former squeeze, Hailey Glassman, RadarOnline.com is exclusively reporting.
Hailey, the daughter of the plastic surgeon who performed Kate's tummy tuck after she gave birth to her sextuplets, had a scandalous affair with Jon just weeks after he split from Kate.
But it seems that all is forgiven, and the two women are tweeting about cooking advice.
Article continues below advertisement
"Hey @kateplysmy8 can you share the recipe for the "Monkey Munch," Hailey wrote to Kate. "It's so yummy, my mom & I never seem to make it as tasty as you did."
PHOTO: Kate Picks Up Kids From School
And shockingly the former Kate Plus 8 star was quick to issue a friendly response.
"@hAiLeYgLaSsMaN1 go to the chex website...It should be there..not my recipe but love it! Called 'muddy buddies' there! Enjoy! :)"
Incredibly -- well, we are talking about reality stars here -- the friendly Kate-Hailey tweets come just days after RadarOnline.com reported that Kate and Jon were in a Twitter war!
Three years ago, Hailey's affair with Jon was as tumultuous as the Gosselin's marriage.
He falsely accused her of ransacking his NY apartment and she claimed he borrowed $200,000 from her and refused to pay it back. The pair's romance ended just one year after it began.