Exclusive
Kate Gosselin Spotted Getting Cozy With Her Married Bodyguard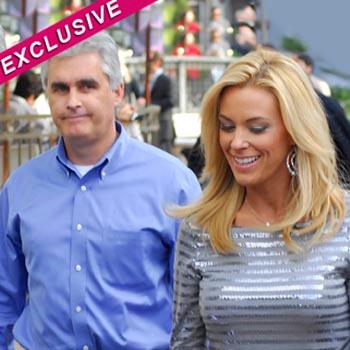 Article continues below advertisement
"Steve and Kate were definitely together, at one point he had his arm around her, and there was no crowd near them," Hughe Dillon tells RadarOnline.com. "Wish I had thought of getting that shot, I don't know what I was thinking!"
The reporter referred to Neild as Kate's boyfriend at one point and a twitter war ensued, with Kate calling Dillon, a liar.
"I had a balls to the walls awesome time at #redball12 then Kate Goselin (sic) showed up and I got a shot that's gonna be seen around the world," Dillon tweeted.
Someone asked if a photo of Kate was worth any money these days, to which Dillon replied, "The photo I have will be and she'll hate me for it – lol," and "That's why I got the shot I did, cause I didn't get her on red carpet or get the tweet that told me she was there. I will say she is grouchy."
PHOTO: Kate Picks Up Kids From School
Kate, who recently said that she's single and lonely, defended herself on Twitter initially, writing "hi! I'm reading your tweets & am upset u are lying about me! I spent about 20 sec with u & gave you a pic...why the hate?" but then slammed his account of the night.
Article continues below advertisement
"wrong? I gave him a pic! He clearly will make up lies...for his own gain...it was a charity event??! Why does he thinks it's ok?"
Hughe wrote back, "I'm not hating on U. I'm just reporting what I saw, and what you did. Which part was lying?"
The former Kate Plus 8 reality star, who has 81,000 Twitter followers, continued to deny that anything inappropriate was happening with her bodyguard.
"I'm sure @redcrossphilly &@dcschrader would not b happy ur spreading neg&lies abt me@ #redball12 !Pur was 2help ppl in need!"