'So Lonely' Kate Gosselin Doesn't Know If She's Ready For Love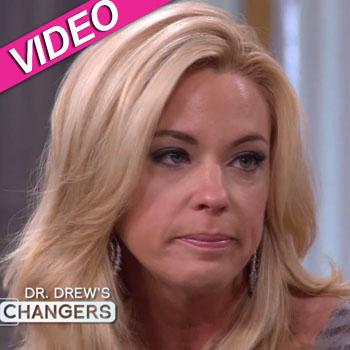 It's been nearly two years since she separated from now ex-husband, Jon Gosselin, but Kate Gosselin says she still doesn't know if she is ready yet to move on.
The reality mom of eight sat down with Dr. Drew Pinsky Wednesday for a tearful, candid interview and RadarOnline.com has a clip.
The usually stoic 36-year-old looked emotional as she confessed that she finds the single life "so lonely" but realizes it would take a very special man to take on eight kids and that she doesn't really know if she is ready to meet him right now.
Article continues below advertisement
When asked "Do you have a love life?' Kate replied: "No. I'm too busy. I think a lot of my friends who are being constructive say 'gosh, who are you going to meet that is going to be able to deal with eight kids?' My answer is always if they can deal with eight kids in our situation it probably will be the person. It will sort of prove it."
Dr. Drew pushed Kate further, asking: "You're tough but don't you want somebody in your life?" To which she replied: "Absolutely! The odds are so against me, one mom and eight kids…so it would be great. I mean, I'm so lonely. I clean up the house, put the kids to bed and there I sit. Ideally I would find that person…I don't know if I feel ready for that.
PHOTO: Kate Picks Up Kids From School
"I think a lot of people mistake that and think someone is going to come in and help you co-parent eight kids, how do you expect that? I don't. I mean, I don't expect someone to come in and financially provide for my kids, I mean, they're mine, that's my job. So, just to have somebody there..."
You can watch Kate's tearful interview with Dr. Drew right here on RadarOnline.com.