Kate Gosselin Strapped For Cash But Still Splashing Out On Bodyguard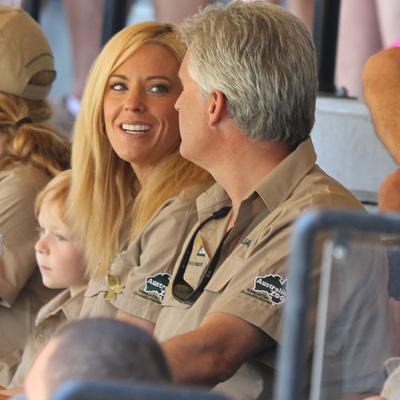 Kate Gosselin has said that life without a reality star's wages "is scary" since the end of her hit TLC show, Kate Plus Eight.
But the working single mom, doesn't seem to have cut back too much on her A-list lifestyle, including continuing to employ a bodyguard to "protect" her when she is out and about.
As RadarOnline.com previously reported, Gosselin has pondered how she will be able to provide for her huge brood post TV.
Article continues below advertisement
"The scary reality is, 12-hour nursing shifts every day wouldn't let me continue to provide well for eight kids, essentially on my own. When you think about it that way, it gets really scary," Kate said.
Going on to claim that the one thing the family is going to miss will be the luxurious vacations the network paid for the family to go on.  They'll still go on trips, but "not like the ones they're used to, but as many as we can handle and afford."
However, the question has to be, if Gosselin is so strapped for cash, how can she afford a bodyguard? And why does she need one when other reality stars (past and present) don't?
When Kate headed out to dinner in Chicago on November 14, her longtime bodyguard Steve Neild, was by her side, and when she traveled down under this week to attend Steve Irwin Day Neild was once again acting as her companion.
Article continues below advertisement
As RadarOnline.com previously reported, Gosselin has been plagued by rumors that she has more than a working relationship with married Neild, something she vehemently denies.
In a tearful Today show interview back in August 2009, shortly after Kate filed for divorce from Jon Gosselin, she insisted: "There is no affair. There never has been an affair. We are very good friends with him, his wife and family."
However, Jon told Good Morning America anchor Chris Cuomo that he was not entirely sure Kate and Neild hadn't been having an affair behind his back.
"I speculate, but I don't know -- that's a general feel," Jon said. "You know, almost like when they were traveling together, I felt jealous. Here I'm Mr. Mom. And then there's some other guy traveling with my wife."
Jon went on to say of Neild's constant presence at Kate's side: "Whether it's protection or not, it's all in -- it's in the back of my mind."
Article continues below advertisement
Meanwhile, Kate continues to build her post reality life (with her trusty bodyguard firmly by her side), as RadarOnline.com previously reported, Kate returned to the working world earlier this month, starting a new gig at CouponCabin. The 36-year-old will serve as a regularly contributing blogger who will give readers money-saving advice and shopping tips.
RELATED STORIES: