Kate Gosselin Slammed By Child Safety Group After Her Son Is Seen Playing Under Her Van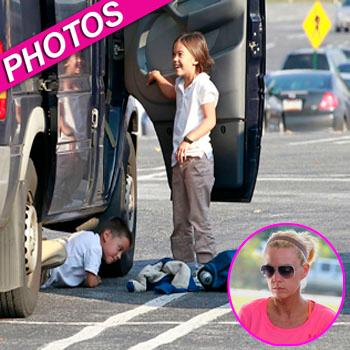 Kate Gosselin's son had a narrow escape from what would have been a fatal accident on Thursday when he crawled under her van as she sat behind the wheel.
In startling photos obtained by RadarOnline.com, the seven-year-old boy can been seen climbing beneath the family-size van, with his head ending up immediately behind the right front wheel.
"A minivan is a 3000-pound lethal weapon and having children crawling around it is not prudent," KidsAndCars.org president and founder Janette Fennell tells RadarOnline.com exclusively.
Article continues below advertisement
The frightening scenario occurred when the former reality star pulled up at a parking lot to meet the school bus and take her eight children home.
Rather than getting out of the huge van to supervise them, Kate stayed in the driver seat as the kids piled in with their big backpacks on their little backs.
But instead of following his siblings into the car, one child thinks it is more fun to scramble all the way under the vehicle and play on the ground where -- if the Kate Plus 8 star had rolled forward or back -- she would have crushed him!
Luckily, he finally gets into the car safely and settles in with the rest of his huge family, and while the incident had a happy ending it alarmed Fennell, a leading advocate for child safety around cars.
"She should have gotten out of the car to supervise them, especially when you have that many children," Fennell says "Kids tend to put themselves in harms way in an instant."
"You should never leave children unattended in or around motor vehicles. Even if they are all capable of getting themselves into the van and getting buckled up, children at that age are unpredictable."
Article continues below advertisement