EXCLUSIVE: Jon Gosselin Asked Judge To Stop Kate From Taking Kids To Australia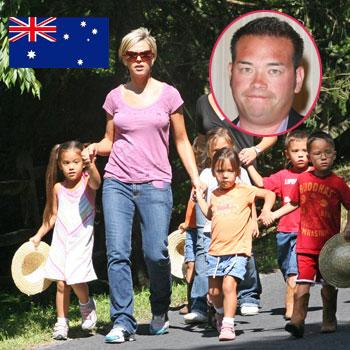 Jon Gosselin made a desperate attempt to stop his ex-wife Kate's trip to Australia with their eight kids -- and even went to court over it -- but a judge ruled that she could make the excursion because it was work related, RadarOnline.com has exclusively learned.
The decision to allow the trip was made following a secret closed door hearing at Berks County Court in Pennsylvania earlier this month by the same judge that allowed Kate to film her spin-off reality TV show Kate Plus 8 on the TLC network, despite objections by Jon.
Article continues below advertisement
A source told RadarOnline.com: "It was another slap in the face for Jon because he did not want the kids to go to Australia.
"But the judge ruled that because it was for work it was okay. Jon had plans to get together with his kids and friends for New Year, but now he will not see them until they return in the middle of January.
"He was scheduled to have them this weekend, but there was nothing he could do as the decision was taken out of his hands.
"Kate told Jon about the trip, and when he did not agree it was decided that the judge should intervene and the ruling went in her favor.
"He is trying to put a brave face on it and has explained the situation to his own family and friends, but obviously not being with his kids for New Year is a big disappointment for him.
"But they all respect him for trying to stand-up to Kate and for fighting for what he thinks is right for his kids too."
Article continues below advertisement
RadarOnline.com exclusively reported that Kate flew to Australia with her eight kids, plus their body guard Steve Nield, on Tuesday night.
The trip is being paid for by TLC and the party will also visit New Zealand. During the excursion they will shoot footage for future episodes of Kate Plus 8.
The source added: "Jon's friends are determined that he will have a good time at New Year even if his kids are not around.
"It is most likely that he will be staying in Pennsylvania to be with his girlfriend Ellen Ross plus family and friends as they see in 2011 together."
In October, 2010, Jon was snubbed by the same court when he tried to keep his kids off television because he claimed they were suffering from emotional and behavioral issues.
Ironically, his two kids Alexis and Collin were later expelled from their private school in Pennsylvania after one of them struck a teacher and they were both abusive to other kids.