Exclusive
EXCLUSIVE: Jon Gosselin Threatened To Report Kate To Child Protective Services Unless She Gave Him Money, Says Ex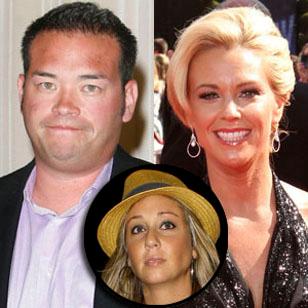 Jon Gosselin threatened to report his then-wife Kate to Child Protective Services unless she gave him a large sum of money, RadarOnline.com is reporting exclusively.
EXCLUSIVE DOCUMENTS: Read Jon's Personal Notes
It is the ugliest chapter in what was a brutal divorce and had remained a secret until now.
Jon's ex girlfriend Hailey Glassman revealed the details to RadarOnline.com exclusively and provided documents to back up her claims.
Article continues below advertisement
NEW PHOTOS: Divorce, Gosselin-Style: Kids Get Kate In Morning, Jon In Afternoon
The blockbuster documents are Jon's hand-written notes that he used to keep track of points he wanted to make during phone conversations with Kate.
Hailey told RadarOnline.com that Jon often refers to himself in the third person, and the notes reflect that. In one of them he wrote: "Jon giving Kate ultimatums. He privately extorts Kate. If you don't do what I want, I'll do this..."
He also wrote: "24/48 hours or I'll go to DA (district attorney)"
"He always referred to himself in the third person," Glassman told RadarOnline.com exclusively. "I found it so strange. It was almost like he thought he was still on camera."
Hailey explained to RadarOnline.com that Jon hatched a plan to get money out of Kate by threatening to report her to Child Protective Services, claiming Kate hurt daughter Mady's arm.
Article continues below advertisement
Mady did hurt her arm, RadarOnline.com learned, and Jon saw it as an opportunity to cash in, according to Hailey.
"We were in bed and Jon called Kate on speaker phone," she told RadarOnline.com exclusively. "He wrote down what he wanted to say to her and then he read from his notes. "He told her, 'You either give me money, or I'm going to call CPS.'"
Hailey continued, "I was in the background asking 'what is CPS?' And Jon told me, 'Child Protective Services.'
"Kate started screaming and Jon just started laughing," Hailey continued. "He just laughed at her. Later when he got off the phone I asked him, 'What are you doing? Why are you doing this? This is the mother of your eight children!' And he told me, 'Oh, you don't know what I went through with her, what I had to deal with.'"
Many of Jon's personal notes are damning when it comes to his dealings with Kate.
Article continues below advertisement
In addition to the excerpts referenced above, another note says, "Need 50k or 100k now. 24/48 hours go to DA."
In another note he wrote: "I'm not your child. I need my money." Glassman said that Kate fought back during her conversations with Jon. "Kate would just say, 'You're sick Jon, you're sick. How could you do this to me? You need help," Glassman recalls. "I just remember thinking at the time that if he could do this to the mother of his kids, what would he do to me?"
And Jon did it more than once.
"There were so many times I witnessed it," Hailey said. "That's how he works. We would literally be in bed and Jon would call Kate, or Kate would call Jon to talk about custody and he would put her on speaker phone. She didn't know I was there.
"He'd say, 'I'm going to go public with the way you treat the kids, I'm going to call CPS and the news and tell them everything unless you give me what I want."
Article continues below advertisement
The notes were kept in a file in Jon's NYC apartment during the time he was dating and living with Glassman.
"Jon would do sneaky things like that and then play the victim card," Glassman told RadarOnline.com. "That's what he always did. It was all an act. The man has no boundaries for doing what he needs to do to get what he wants."
And Hailey says that as mad as Kate ever got, she always backed down to Jon's threats.
"Kate would get upset and scream at Jon but she'd always give in, because he'd tell her, 'I'm going to go to the news and tell the world how you treated Mady," Glassman said. "I would say to him, 'How can you do this to people?' I'd say, 'What are you doing with TLC? Just do what they want, stop hurting Kate, stop blaming her."
Hailey continued, "I felt like he was going to snap and I didn't want him to snap on me. But his response was always, 'I love you, you're my soul mate. I went on GMA and told the world that you're my soul mate', but I just knew that if he could do that to the mother of his eight kids, he'd do the same thing to me."
Wednesday morning, Jon took to Twitter to deny our story, saying "Radaronline has been duped again by Hailey Glassman, who is apparently without a job and desperate for money. This article contains so many lies, they are too numerous to count. It is completely false and without any merit."
In his Tweet, Gosselin did not offer any explanation for his hand written notes.
RELATED STORIES:
EXCLUSIVE: Hailey Glassman Cleared In Jon's Apartment Break-In