NEW PHOTOS: Divorce, Gosselin-Style: Kids Get Kate In Morning, Jon In Afternoon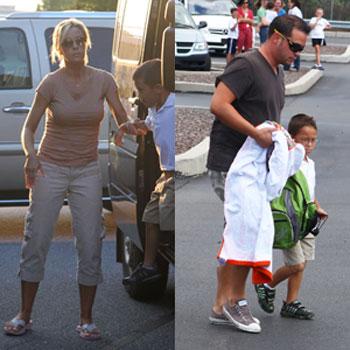 Reality TV made them famous and now they're dealing with the reality of divorce.
These new photos obtained by RadarOnline.com show Jon and Kate Gosselin and all eight children adjusting to their new lives as Kate dropped off the kids for the bus ride to school and Jon picked them up Thursday afternoon.
It's the first year that all eight Gosselin children are attending class full-time.
The kids (twins Mady and Cara, sextuplets Aaden, Joel, Collin, Alexis, Hannah and Leah) were clad in matching sweatshirts -- boys in black, girls in white -- and blue jeans, as Kate and her bodyguard Steve Neild saw them off in Pennsylvania on Thursday morning.
Article continues below advertisement
Hours later it was Jon who greeted the kids at the bus stop, making it a two-parent day for the Gosselin children.
Kate got sentimental on her blog earlier this month about all her children now in school.
"I stand in awe, amazement and slight sadness at the thought of this insert sad, nostalgic mommy music here please," she wrote.
In related news, Jon Gosselin Tweeted Wednesday he is "not writing a parenting book" and "not at liberty to discuss what his new book is about yet."
A new, one-hour Kate Plus 8 special airs August 30 on TLC at 9/8c.
RELATED STORIES: