Exclusive
EXCLUSIVE: Jon Gosselin Violated Court Order By Revealing TV Battle Over Kids, Charges Kate's Lawyer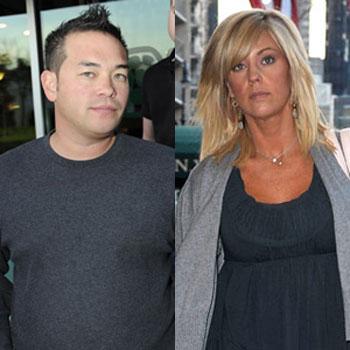 Jon Gosselin violated an "unambiguous" court order not to comment on his recent legal battle with ex wife Kate to keep their children off TV, Mark Momjian, Kate's lawyer, told RadarOnline.com exclusively. RadarOnline.com has also learned exclusive details about the secret court appearance that took place October 13.
Jon Tweeted on Friday that he had been back to court to try to keep his kids off TV, saying they were suffering emotional and behavioral issues from their lack of privacy. He revealed that he lost his secret battle.
Article continues below advertisement
Momjian told RadarOnline.com that Jon should have kept his big Twitter shut.
"The court has previously entered an order restricting the parties from commenting on the underlying custody proceedings," Momjian said, without talking about the specifics of the case.
RadarOnline.com learned that the October 13 court case was a six-hour hearing. One source said Jon's arguments were ridiculous and the judge certainly wasn't impressed – giving Kate the right to make the decision about the kids appearing on TV.
While that verdict is in, Kate's lawyer promised that Jon revealing the private court battle against the judge's orders is an issue that will continue.
Through her lawyer Kate "is going to consult about the latest Tweet and respond vigorously to it, through the court," Momjian added.
"We think this is in violation of a court order preventing any parties from discussing these matters.
"We will respond to it through the court, as that is the appropriate forum to deal with these issues.
Article continues below advertisement
"The court was very clear in its orders to maintain privacy for this couple and their children and the issues they are dealing with.
"Because of that prior admonition, I am not going to respond substantively to anything in his Tweet, because it is not in accord with the clear directive of the judge who is presiding over this case.
"Ms. Gosselin has obliged the court directive to keep it confidential and now we will have to work with the court to address the claims.
"Whatever the recourse, we will do it through the court, because there is very little I can do to respond. Two wrongs don't make a right."
Jon previously had denied TLC permission to film his children but then allowed them to appear again as he settled the Discovery network's breach of contract lawsuit against him.
Friday's Tweet reminded a lot of people of Jon's actions from last year, when he first said his kids loved being on TV, then said it was bad for them, then allowed it again, tried to get custody from Kate, accused her of being a bad mom for appearing on Dancing With the Stars and generally created chaos.
Article continues below advertisement
Momjian told RadarOnline.com about Jon: "He decided to Tweet on a legal proceeding when a court was unambiguous about its order that it did not want it to be discussed.
"Ms. Gosselin is going to adhere to the court's admonition to keep this matter private."
On Friday Jon Twittered: "On October 13, 2010, I went to court to act in the best interest of my children- to remove them from television. The judge respectfully denied my plea, and granted filming rights to their mother. I honor the judge's decision, but I do not support it. I will not stop fighting to remove my children from television. It is not a child's job to support themselves, or a lifestyle, they need to be kids."
Kate Gosselin Shops For The Twins Birthday
Jon also said his TLC contract is preventing him from taking other entertainment-related jobs and that he has not been able to find a job outside of the field.
The Gosselin 8 appear on Kate Plus 8, the series of specials that replaced Jon & Kate Plus 8. And while Kate has continued to earn money on reality TV and through her appearance on Dancing With the Stars last season, Jon says he's struggling.