Kate Gosselin On Dissing Jon, 'If You Knew What I Know, You'd Be Amazed At My Restraint!'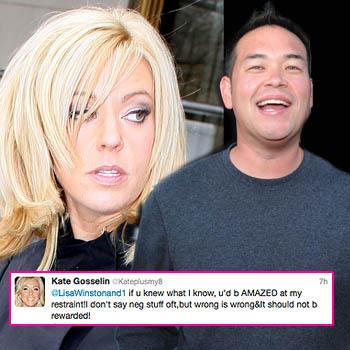 By Alexis Tereszcuk - Radar Entertainment Editor
Another day another fight!
Kate Gosselin is getting nasty on Twitter again, this time lashing out at an old adversary.
The Kate Plus 8 star spends her days interacting with her fans and haters alike on the social media platform and in a recent tweet she lays into her ex-husband Jon Gosselin.
The latest round started after someone wrote to Kate, "I am a divorced mom and try not to diss my ex for sake of my daughter. Why do you diss Jon so often. not sure how that helps."
Article continues below advertisement
PHOTO: Kate Picks Up Kids From School
Instead of just ignoring her critics Kate jumps right into the fray, insisting that she hardly ever bashes him and sharing that there's lots of bad stuff Jon does that she never mentions!
"if u knew what I know, u'd b AMAZED at my restraint! I don't say neg stuff oft, but wrong is wrong & It should not b rewarded!" Kate tweeted.
Jon and Kate's epic fights stem from their bitter divorce, after cheating accusations on both sides and their nasty custody battle, where Jon refused to let their children be on television.