Kate Gosselin Lashes Out On Twitter Again!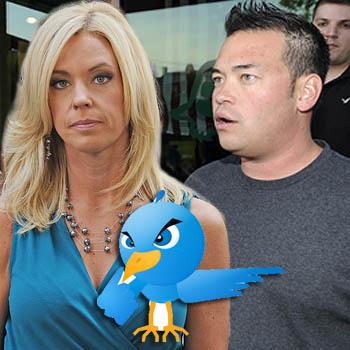 Article continues below advertisement
"Being honest. u were asked not2call it the 'Kate calendar' a few yrs ago, remember? :)U benefitted. we didn't!" the Kate Plus 8 star wrote and then the battle began!
"U got marketing u couldn't pay 4!SO many features on r show & I didn't mind until I was 'thanked' by having my name used!:( " Kate claimed, referring to a calendar that the company had designed.
"OMG. kate u and jon sent stuff left and right..use however. dont want ur name on a THING. no worries!! LMBO." The company quickly shot back.
When Kate finally had enough of the back and forth she tried to end things by writing: "I won't discuss further.U may trash me all u like-it won't hurt me,but will make u/ur bus look WORSE Why cont?
The battle soon came to the attention of Kate's ex-husband Jon, who called the company and used the fight as an excuse to slam his ex!
PHOTO: Kate Picks Up Kids From School
"It was Jon looking for me (yea..Jon Gosselin ya know) bc he couldnt believe what he was reading after all i did for them early on," EM Tanner Designs wrote on Facebook.
MORE ON:
hollywood happenings
Article continues below advertisement
"Yep, seriously. i was in bed snoozing but he left his cell and i had a really nice convo with one heck of a stand up guy that has absolutely had his fair share of being thrown under the bus unfairly! REALLY. Excellent, cool, humble, appreciative guy who honestly just wanted to thank me again himself..he's also the fun one who 'got' my sarcasm...promise he is normal i dont give a crap what the rag mags may have said! STAND UP GUY...once again CONFIRMED. Just thought some of you would find this tid bit interesting and of course bc i DONT step on toes i ASKED him if it was okay to share this FIRST! ha. really that's the funny part I would never tell yall this had i not gotten his permission! He & his kiddos deserve the best!"