Exclusive
EXCLUSIVE: Hailey Glassman Says Even Jon Gosselin's Life Coach Thinks He's A Chronic Liar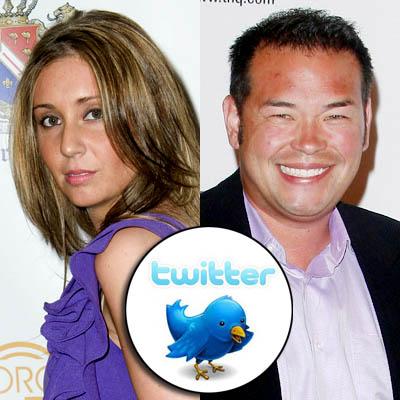 Hailey Glassman says her ex-boyfriend Jon Gosselin is such a chronic liar that his life coach once called her and her parents and told them to accept his lying and not get mad at him for it.
It's the latest volley thrown by Hailey, who isn't buying Jon's latest Twitter rant in which he attempts to "clarify a few things."
In an exclusive interview with RadarOnline.com, Hailey casts doubt on Jon's admissions and drops some new bombshells of her own.
Article continues below advertisement
Hailey said Jon's seemingly heartfelt apology to Kate and his eight kids is nothing but a "negotiating tactic to gain sympathy from the public."
"I am acutely aware of the mistakes I made in 2009 and I am ashamed of the choices I made," Jon Tweeted on Tuesday. "I have apologized to Kate, my family, and to my friends. Through counseling I have learned to own my actions. My goal is to move forward in a positive direction."
Hailey claims Jon lied so much during their relationship that his life coach actually called her and her parents and told them to "accept his lying" and "not to get mad at him for it" because otherwise he would never be capable of telling the truth.
Read Hailey's entire response to Jon's Tweet below:
"Jon Gosselin, oh Jon G, when are you going to learn, if you truly care STOP GOING TO THE MEDIA oh excuse me even worse VIA TWITTER about your family! All I have to say about him is SAME OLD JON.
Article continues below advertisement
"He always uses his children as a negotiation tactic and to get sympathy from the public. He truly should get real help and not his 'life coach' who I know due to he had her when we were together. She even called my family and spoke to my parents about Jon to tell us to 'accept his lying and not get mad at him for it because he will then never tell the truth.'
"If she was such a great 'life coach' (lol at life coach) she would help Jon get the real help he needs so he can then be chemically balanced. He swoones her like he does all his naive girlfriends: a.k.a. I know me being one of them in the past.
"JUST GO AWAY, oh and 'lastly'- PAY ME MY MONEY JON."
Hailey then offers up some free life coaching advice of her own:
"Here Jon, even though you still have not paid me my $200,000 back yet, I consulted with an attorney and have another 2 years to sue you but since I'm such a good person I will give you free life coaching right now:
"1-Get a job so you can rejoin society and stop living in your own little world off your ex wife and children's money. It's extremely unhealthy how you live Jon.
Article continues below advertisement
"2-Stop making excuses for everything and always blaming others, take responsibility.
"3- ACTIONS SPEAK LOUDER THEN WORDS, you can talk the talk all you want but if you consistently pull the same statements and kvetching, year after year obviously the world knows you are a liar and nothing that comes out of your mouth is true. If you told the world at this point the sky was blue people would probably go outside to make sure, because you have proven yourself a liar consistently, and throughout the 7 years I have known you, you have always been a liar.
"4- IF YOU TELL THE TRUTH YOU NEVER HAVE TO REMEMBER WHAT YOU TOLD WHAT TO BECAUSE IT'S THE TRUTH SO IT SHOULD ALWAYS BE THE SAME.
"5- Everything Happens For a Reason.
"I hope you one day truly do seek the real treatment you and I know you need. The first step is admitting you have a problem and well you're a pathological liar so I can see how the first step would probably be hard for you.
"I hope you get help and the only person hurting your children is you Jon."