Pucker Up! 10 Celebrities With Terrible Trout Pouts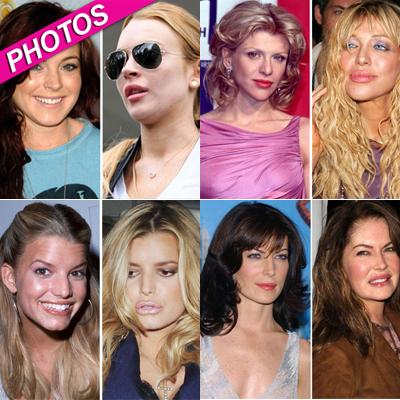 Kissable lips are awesome, but these stars are just a little too lippy!
Angelina Jolie and Scarlett Johansson were blessed at birth with full, fantastic lips, but not all of Hollywood stars are quite as content with their smackers.
From young actresses to red carpet veterans, these ten women appear to have turned to unnatural methods to enhance their lips, resulting in terrible trout pouts!
Article continues below advertisement
Jessica Simpson is one of the few stars who has admitted to getting her pucker enhanced. The about-to-pop singer, who touted a massive trout pout in 2008, revealed that enlarging her lips was a huge mistake.
Melanie Griffith was a sweet faced and thin-lipped teen in 1976. The actress, who has admitted to getting injections in her lips, should think about going for a more natural sized smacker!
And Lisa Rinna got her lips done way back in the day, but after several decades of being defined by the size of her pucker, the actress decided to get them downsized in 2010.
What other stars have sported terrible trout pouts? Find out by clicking here.