LiLo, Is That You? 66-Year-Old Debbie Harry Is Mistaken For 25-Year-Old Lindsay Lohan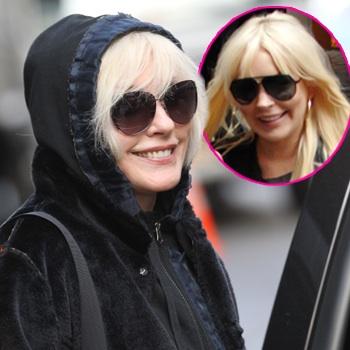 By Debbie Emery - Radar Reporter
With her hard partying past and recent experiments with plastic surgery, it's often been said that 25-year-old Lindsay Lohan looks older than her age, but is 41 years older going too far?
Well some people don't think so!
A group of sharp-eyed photographers mistook former punk singer Debbie Harry, who at 66 is older than Lilo's mom, Dina, for the notorious party girl as she walked the streets of Manhattan on Sunday, reported the NYPost.com, and crowded around her trying to get the best shot.
Article continues below advertisement
In their defense, Harry was dressed in a very Lohan-like get up of large dark glasses and a thick black coat, with a mane of bleach blonde hair sticking out from under her hood, so it's easy to under to understand their mistake, despite the fact that the 80s star formerly known as Blondie is old enough to be Lindsay's grandmother.
The Mean Girls star was in New York that day too, recovering from the embarrassment of her SNL hosting bomb the night before, she just didn't happen to be leaving the Mercer Hotel when the photographers started frantically snapping.
While the misunderstanding must be flattering for the Heart Of Glass singer, who certainly looks fabulous for her age, Lindsay will no doubt be upset about the confusion, especially in light of recent concern over her sudden obsession with plastic surgery.
But with three decades of hit records and 30 film roles to her name, Lohan should be proud to be compared to an artist as successful as Blondie!
RELATED STORIES: