Lindsay Lohan Dishes On Hosting SNL, Playing Liz, & That Infamous 'Debbie Downer' Skit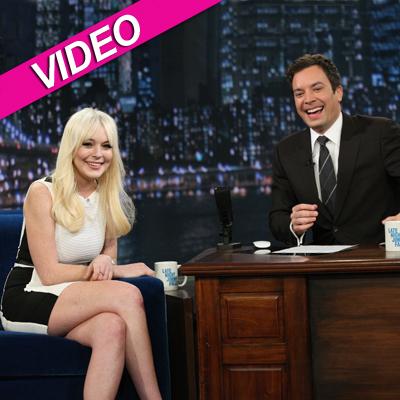 The Lindsay Lohan comeback tour continued Thursday night with the actress making a successful appearance on Late Night With Jimmy Fallon.
Lohan -- wearing a form fitting, monochrome mini dress -- talked about hosting Saturday Night Live this weekend, that infamous 'Debbie Downer' skit, and preparing for her Lifetime bio-pic about the life of the legendary Elizabeth Taylor.
The interview began with Lohan ,25, dishing on how she got the SNL hosting gig, admitting she aggressively pursued SNL boss Lorne Michaels by phone.
Article continues below advertisement
"I kept asking him," Lohan said. "I wasn't giving up."
Lindsay told Fallon she ran into Michaels in Los Angeles and pressed him in person. "You know Lorne, he's very straight to the point," she said. "He was like, 'What about March 3?', I'm like, 'I'm free!'"
Watch the video on RadarOnline.com
Lindsay also put Fallon on the spot, asking if he'd do a walk-on cameo on SNL for her, to which he responded, "I'd do anything for you, if you want me to do it."
This will be Lohan's fourth time hosting SNL and later in the interview, they reminisced about one of the show's most memorable skits -- the first ever 'Debbie Downer' skit when Lohan hosted back in May of 2004.
During the now famous skit, the cast, including Fallon, couldn't stop laughing as Rachel Dratch -- as Debbie Downer – deadpanned one depressing zinger after another during a family outing at Disneyland, including the hilarious line, "It's official. I can't have children."
Article continues below advertisement
Lohan also talked about playing Taylor in a much-anticipated bio-pic for Lifetime, saying the television movie starts with her playing the late actress during Cleopatra and follows her life her tumultuous relationship with Richard Burton towards the ends of both of their lives.
Lohan said at this time, they don't know who will play Richard Burton, to which Fallon jokingly responded, "I'm not doing anything. Want to invite me to something else? I can do that.. or Saturday Night Live."
When Fallon asked what the movie was called, Lindsay replied, "Liz and Dick," which prompted laughter from the audience.
Fallon went on to predict that the title of the movie will be changed to simply Liz and that Lohan would receive an Emmy for her work.
Lindsay later took part in a hilarious game of Pictionary with Fallon and members of the audience.
Late Night With Jimmy Fallon airs weeknights on NBC at 12:35/11:35c.