Plastic Surgery Disasters? 10 Stars With Questionable Scars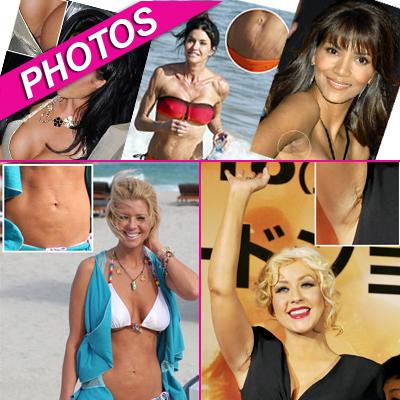 Nothing like suspiciously placed scars to spawn plastic surgery speculation!
Like any major surgery, cosmetic procedures like boob jobs and tummy tucks leave behind pesky evidence in the form of scars – and sometimes Hollywood's hottest stars fail to properly cover them up. RadarOnline.com has photos of 10 stars showing off suspicious scars that prompted experts to believe that they did, in fact, go under the knife.
Article continues below advertisement
Did Christina Aguilera get a boob job? The sizzling hot singer sparked suspicion when she hit a promotional event in Tokyo, flaunting a pretty large scar underneath her armpits.
And it was hard for Tara Reid to deny getting work done, when she showed off her new body and botched tummy tuck in skimpy bikini.
Kate Gosselin had a tummy tuck after giving birth to eight kids, but are the reality star's scars from the publicized procedure?
Up in the Air star Vera Farmiga had people wondering if she had gotten a nose job when she was spotted leaving a Beverly Hills doctor's office with suspicious bruising on her nose in 2009, but the actress insisted it was due to slipping on the set of her movie.
Jenni "J-Woww" Farley and Janice Dickinson have copped to getting work done, so they have nothing to hide when it comes to their war wounds.
What other stars have suspicious looking scars? Find out by clicking here.