Exclusive
REAL OR FAKE? The Truth About Kate Gosselin's Boob Job Controversy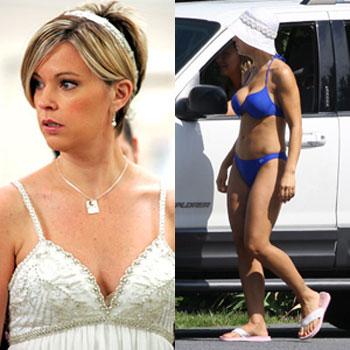 Kate Gosselin rocked a bikini while in Mexico last week, showing off toned and tanned body.
Her impressive figure has caused both experts and fans to wonder whether or not the 35-year-old mom of eight has had a boob job.
Kate has admitted to having a tummy tuck back in 2006 to remove the excess skin around her belly, but has said she has not had any other procedures.
She is on the cover of People Magazine this week, saying her hot new body is courtesy of exercising. She addressed the plastic surgery rumors saying, "These breasts are all mine."
Article continues below advertisement
So are they?
Despite Kate's statement, a debate still rages.
RadarOnline.com reached out to prominent plastic surgeons to get their opinions about her claims that she hasn't had breast augmentation.
Dr. Anthony Youn told RadarOnline.com it is "extremely unusual to have nice, firm, perky breasts and a saggy tummy. It just doesn't match."
Youn, who has not treated Kate, added, "It definitely looks like she has implants. Her breasts look almost excessively round and firm for a 35-year-old who has had eight kids.
"Women who have had that many kids usually have a lot of stretching of excess skin in both the tummy and the breasts."
Addressing whether she could have had a lift versus breast augmentation, Youn explained: "Even if she just had a lift, that doesn't create that firm, round, perky look."
Beverly Hills plastic Surgeon Dr. Stuart Linder www.drlinder.com also weighed in on Kate's boob job controversy, telling RadarOnline.com: "There is a very high correlation of skin laxity in the breast and
Article continues below advertisement
stomach area and it is very rare for someone to get a tummy tuck and not get a breast augmentation."
He explained that it isn't infrequent that "women who have a tummy tuck will also need a breast lift" because the breast skin will have stretched as much as the stomach skin.
"There is a high chance that she lost volume in her breasts," Dr. Linder, who also has not treated Kate, explained.
"There will be a loss of breast tissue during pregnancy and she may have had a lift to change that."
Youn quipped that either way, Kate's 'no surgery' claim is accurate: "They are all hers because once she pays for them they are all hers. I've never taken back any patient's implants."
Do you think Kate Gosselin's hot new body is from her dedication to exercise, plastic surgery, or both?
Add your comment below!
RELATED POSTS: