Plastic Surgery Disasters: Hollywood Stars With Chipmunk Cheeks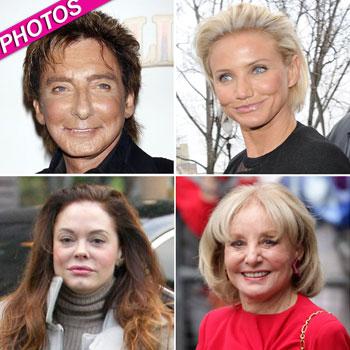 How cheeky is too cheeky?
Ashley Judd and Cameron Diaz are two of the most recent stars to spawn cheek augmentation surgery rumors in the last few months, but they aren't the only Hollywood names who have gotten attention for their puffed up smiles.
RadarOnline.com has photos of ten other celebrities with chipmunk cheeks, who may or may not have gotten a little help from a doctor.
Are you Charmed by Rose McGowan's cheeks? The sexy star has definitely shown off a changing face through the years, but has never admitted to getting a little extra padding.
Article continues below advertisement
It's no secret that Heidi Montag has undergone several plastic surgery procedures! The Hills star, who received fat injections in her cheeks from Dr. Frank Ryan, has one of the most plastic faces in Hollywood.
Joan Rivers is one of the most famed plastic surgery obsessed stars in history, but has her daughter, Melissa, inherited the addiction as well? It has been speculated that the television personality has chunked up her cheeks artificially.
And plastic surgery isn't just for women! Barry Manilow is rumored to have underwent several procedures over the years, including cheek augmentation.
What other stars are rumored to have gotten cheek implants? Find out by clicking here.