Exclusive
EXCLUSIVE PHOTOS: More Plastic Surgery For Heidi Montag? Pics Reveal Strange Bandage On Her Nose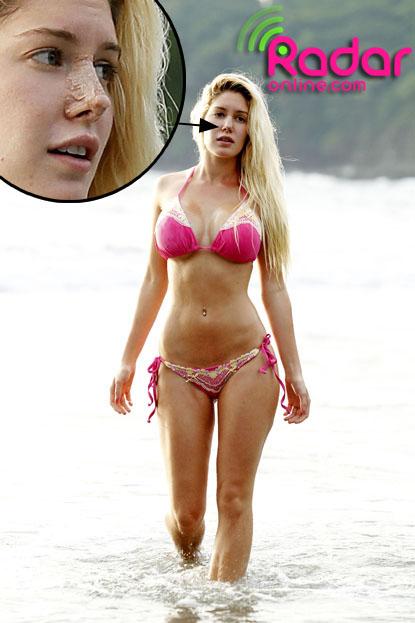 Has Heidi Montag undergone yet another plastic surgery?
In brand new photos exclusively obtained by RadarOnline.com the reality TV star is seen in in a bikini in Costa Rica wearing a strange bandage on her nose, complete with a splint, often used to protect a nose after rhinoplasty.
The photos were taken last Thursday, August 19, in Costa Rica, but only released today.
After the photos hit the web, Montag released a statement to Life & Style magazine, explaining the tape. Montag said, "Except for filming and a few photo shoots, I've had my nose tape on 24 hours a day since November. It takes a year for your nose to heal. This is just the first photo that anyone has seen of it.
Article continues below advertisement
"The last time I didn't wear tape after surgery and my nose changed shape," she said. "The tape is supposed to keep the swelling down and hold my nose in place the way Dr. Ryan sculpted it. Dr. Ryan always said I was his best, most cautious patient, and I'm not taking any chances now that he's gone. I don't want my face to fall off like Michael Jackson's."
As RadarOnline.com has previously reported, Montag's plastic surgeon, Dr. Ryan, was killed last week in a car accident.
Ryan was the Beverly Hills surgeon who famously performed ten surgeries on Montag in a single day last November.
Montag has since said she regrets one of the surgeries in particular - getting extreme breast implants.
Montag told Life & Style that she's currently scouring South America looking for a doctor to perform the proceedure to reduce her breast size in the wake of Ryan's death .
Montag says she now knows it was a mistake to get G-Cups.
Article continues below advertisement
"I'm desperate to go back to normal. I'm downgrading and going a little smaller, to a D or a double D."
Montag said that nine months after her breast enlargement surgery, she regrets it for the pain it has caused her both mentally and physically.
"I have major anxiety about it. I was taking painkillers but they weren't working, so I stopped. It hurt either way," she told the magazine. "I'm obsessed with fitness, but it's impossible to work out with these boobs. It's heartbreaking. I can't live an everyday life."
Montag also she's concerned she won't be able to find a doctor with the magic touch the late Ryan had.
"I feel trapped in my own body. There's just no fixing it," she said. "Dr. Ryan knows the work he did, he knows everything."
Although The Hills star has claimed to be divorcing her husband Spencer Pratt, he too is in Costa Rica.