Even More Stars Who Are Proud To Be Plastic & More Who Regret Going Under The Knife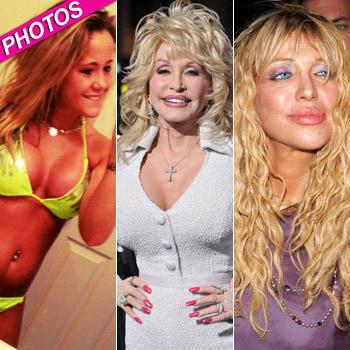 Hollywood stars can go to extreme measures to keep their plastic surgery a secret, but not everyone is bashful about going under the knife.
Whether they are proud to be plastic or have severe surgery regrets, these sassy singers, reality bombshells and big screen babes have opened up about their decisions to go under the knife, for better or for worse. RadarOnline.com has even more photos of stars who are proud to be plastic and stars who regret their surgery.
Article continues below advertisement
Heather Morris refused to comment on reports that she had gone under the knife to amp up her assets, but after months of plastic surgery speculation the Glee girl finally copped to getting fake boobs – but not before getting them taken out!
"Implants were something I thought I wanted when I was younger, and now I don't," she dished to Fitness magazine. "It was hard being active with them, my chest was always sore. It hurt a lot, and I didn't like being in pain - so they had to go!"
Jenelle Evans, however, wasn't so bashful about her boob job! The Teen Mom didn't waste any time before showing off her artificial assets, modeling barely-there bikinis on Twitter and even posing naked in photos that leaked on the internet.
Dolly Parton is super plastic and incredibly proud!
"If I see something sagging, bagging and dragging, I'm going to nip it, tuck it, and suck it," the country singer and actress famously said. "Why should I look like an old yard dog if I don't have to?"
But not Kenny Rogers! The legendary 'Gambler' took a chance on surgery, in order to impress his much younger wife, later admitting that he regreted getting the work done.
What other stars are proud to be plastic and who has regrets? Find out by clicking here.