5 Stars Who Are Proud To Be Plastic And 5 Who Regret Going Under The Knife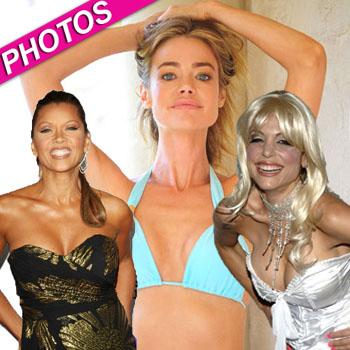 Hollywood's hottest stars are no strangers to the plastic surgeon's office and some of them even cop to going under the knife, but not all of them are happy with their nip and tuck!
From big screen bombshells and legendary singers to the top reality stars in the world, these celebrities have amped up their cup size, gotten their lips plumped up, forehead's Botox'ed and undergone massive facelifts, with only some of them satisfied with the end result. RadarOnline.com has photos of 5 stars who are proud to be plastic and 5 who regret going under the knife, in a special cosmetic surgery feature.
Article continues below advertisement
Though Kim Kardashian hasn't copped to getting any major work done, the busty and bootylicious bombshell did dish about the Botox injections that she infamously got on her reality show Keeping Up with the Kardshians. "Botox wasn't necessary for me at this age," she later wrote on her blog about the procedure.
Bethenny Frankel recently dished about her too-big boob job on her new talk show, revealing that though they made her feel sexier in bed, they were too large. She later had them removed and lifted by a more experienced surgeon.
Bachelor winner Vienna Girardi wasn't shy about her nose job, gushing that she couldn't be prouder of the way it changed her mug.
"I want my surgery to be looked at as positive reflection of how I feel. If it makes you feel better about yourself then DO IT. xoxo," Girardi tweeted in July 2011 after the surgery.
Debbie Harry is also proud of her work! The 66-year-old Blondie singer, who was recently mistaken for 25-year-old Lindsay Lohan, has admitted to getting a facelift, but maintains that she did a lot of research before going under the knife.
Article continues below advertisement
"Yeah, I had a facelift years ago," she has said. "Why not? It gives you all the things you need to be part of the action. I don't feel like hiding myself away….Everybody knows that I've had plastic surgery. I did it for business reasons. You photograph better, and looks are a key part of being an entertainer, so I felt it was something I had to do. All sorts of horrific things happen in life – why make it worse by worrying about getting older?"
Denise Richards may be famous for her bombshell boobs, but Charlie Sheen's ex regrets the decision to get implants.
"At 19 when I first got my breasts done, I wish that I was confident enough with my body to not have had surgery," she blogged in 2011. "That is something that I really want to encourage in my daughters, to embrace their healthy body and have confidence. I actually feel more confident in my skin now than in my 20's. Being confident is one of the sexiest qualities a woman can exude."
What other stars are proud to be plastic and who regrets going under the knife? Find out by clicking here.