More Fake Than Real! Reality Stars Who Have Gone Too Far Under The Knife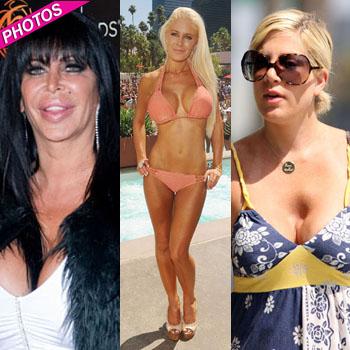 How real are your favorite reality stars?
From Mob Wives and Jersey Shore guidettes to Real Housewives and the Kardashian klan, reality television stars are no stranger to going under the knife, and sometimes their plastic surgery isn't too fantastic. RadarOnline.com has photos of 10 more fake than real reality stars, who have drastically changed right before our eyes.
When it comes to trout pouts, Kim Kardashian and Taylor Armstrong appear to share a plastic surgeon. Though the big-lipped ladies have never copped to getting their smackers surgically enhanced, the photographs speak for themselves!
Article continues below advertisement
Kim isn't the only person in her family who appears to be Keeping Up with the latest plastic surgery trends! Her stepfather, Bruce Jenner, is rumored to have underwent several surgeries.
Over in New Jersey, Jenni 'J-Woww' Farley loves showing off her artificial assets in scandalous style, while Mob Wives matriarch Angela 'Big Ang' Raiola, appears to have several surgeries under her belt.
Plastic surgery isn't just for older reality stars! The Hills star Heidi Montag was barely old enough to drink when she underwent several plastic surgeries in one day, showing off a new, barely recognizable look courtesy of the late Dr. Frank Ryan.
See all 10 reality stars who have gone too far under the knife by clicking here.